The Current's Guitar Collection: Jean-Philip Grobler of St. Lucia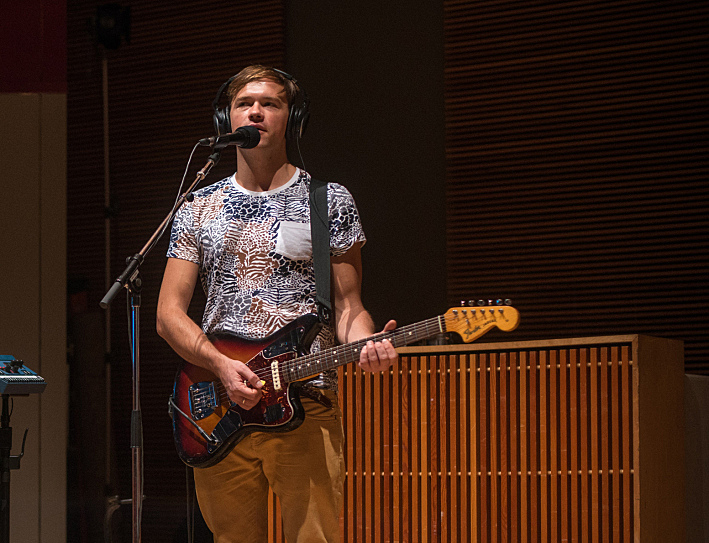 Jean-Philip Grobler is the front man of New York-based band, St. Lucia, who recently visited The Current for an in-studio session.
Grobler took a few minutes to talk to us about his guitar, where he got it and why he was drawn to it.
It looks like you have a Fender Jaguar.
Yes!
Do you remember when and where you got it?
Yeah, I've had it, I think, for about five and a half or six years now. I bought it at a shop called Matt Umanov Guitars in the West Village in New York.
I only own two electric guitars actually, and the other one's a not-super-good Washburn copy of a Gibson 335. But this is the only guitar I've had for a long time and I play it everywhere and it's super dinged up. I just kind of [use it savagely] every day and throw it around. I love it.
What about the tone of it attracted you to it?
Yeah, I mean, there was something about a Jag that I felt was, you know — it's not like a Tele or a Strat. It's kind of alternative Fender guitar and I just always liked the look of it and I tried out different guitars for sound and that's the one that just spoke to me sound-wise. And there were a couple of my favorite bands that were playing them at the time — in particular Mew, a band from Denmark that I love.
I also had it modified recently. I had all of the tone controls taken out because I play really crazy and my hand just goes everywhere. I used to just hit the volume and tone knobs all the time, so I had all of them sunken into the guitar. You can see they're all taped up.
Did you write a lot of the album on this?
No, I don't generally write on guitar so much anymore. It's just a part of the array of sounds that I like to make. There are a few other guitars that I use in the studio that are just friends' guitars, but this is definitely my main workhorse guitar that I love.
What do you primarily write on?
I just write in my head, actually. Recently it's just been writing on the laptop because we've been on the road and in the van. But sometimes I'll just sit down with my guitar and play it and something will come to my head and I'll be inspired.
Resources
Related Stories
3 Photos
L to R: St Lucia's Patricia Beranek, Jean-Philip Grobler and Ross Clark.

(MPR photo/Nate Ryan

)

St Lucia's Jean-Philip Grobler and Patricia Beranek

(MPR photo/Nate Ryan

)

St. Lucia front man Jean-Philip Grobler and drummer Dustin Kaufman.

(MPR photo/Nate Ryan

)
View 2 more photos
---
comments powered by

Disqus