Lucius check in from the road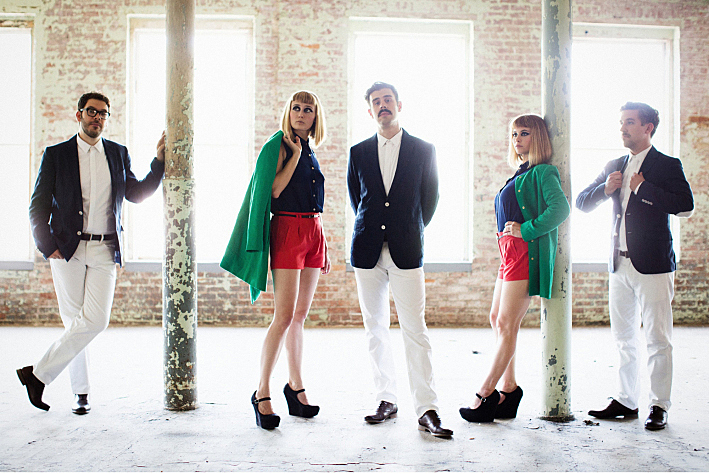 Brooklyn-based five-piece Lucius were last in The Current's studios in October 2013, and they have been touring aggressively since that time. They'll be back in town next week for a sold-out show at The Cedar Cultural Center in Minneapolis, and they recently checked in with us via email from the road. Here's what they had to say:
You recently tweeted that you happened to catch your song on the radio in D.C. Was that the first time you serendipitously heard one of your songs on the radio? That must have been a thrill!
Yeah! Totally! When that first happens, you aren't convinced that it could be happening and you think to yourself, "Why did someone in the van put on the Lucius CD?" Don't get me wrong, we all love the album, but what band tours all year long blasting its own record? Then you realize that your song is indeed playing on the radio. And that feels AWESOME!
You've had an ambitious tour schedule, including recent trip to Europe. How did the European dates go? Did you find new audiences? I see you're getting airplay in the UK, Ireland and France; did that come out of touring?
Europe was an incredible experience. It was a first for all of us, to travel to Europe to play music. It's not that we don't feel loved and appreciated in the States at all, but there is a very distinct difference in the overall of feel of playing shows there. Venues there often sit you down for an actual meal, the crews work very hard as a lot of those jobs are supported by government money and the jobs are very desirable and the audiences are very receptive and respectful of the artists.
It might sound like a cliché of much of the European audience, but we found that all of things were actually true: We had a great time in each country, lots of wine, cheese, taking in history and hearing a lot of great new bands. Oh, and wine. And more wine. We were lucky to get a great response from promoters in each country, so it sounds like we will be returning very soon. We just started working with a label there named PIAS that will be releasing the record in the near future.
With such a busy tour schedule, what sorts of things do you do to maintain endurance and consistency? For example, Bono doesn't speak much on show days to preserve his voice; and when the band The Selecter were in, they talked about how they work out at least 30 minutes every day to stay fit and healthy while touring. What sorts of things do you guys do?
Life on the road (or perhaps more accurately, life in the van) can be very taxing on your body physically and mentally. We love to do a seven-minute workout before the show. It's a series of exercises that last 30 seconds with 10 second break in between. We've done that in some scuzzy places before shows — sit ups on dirty floors that smell like old beer doesn't sound like much fun, but you have to make the most of your free time.
It's also very important to make stops along the road when you are driving. This country just happens to be huge and full of so much beauty, so if you find yourself driving through the desert, it's mandatory to pull off the highway as the sun is setting and just all enjoy a peaceful moment in nature together.
There is also a really awesome website called swimmingholes.org that we like to check out when it's warm. It's a really funny, dated website that shows you where there are state parks or rivers or even just hidden swimming spots on people's property with great places to go swimming.
Jess and Dan are married; what are the pros and cons of being a married couple and together in a touring band? How do you separate work and home life?
This band is getting to a certain point where we probably spend at least three-quarters of the year on the road, so we really don't see our homes as much as we would like. But we love touring and you adapt to life on the road. It's wonderful to have a relationship that we not only get to share the exciting and fulfilling life of a touring musician together, but also we help each other grow as artists.
We spend so much time driving that sometimes the van starts to feel like home ... and everyone farts in the van. So the only con would be that our home always smells like farts.
Not long ago, Portland, Ore., was the "it" place for music. Now it seems Brooklyn, N.Y., has pushed Portland aside. You're based in Brooklyn; how does Brooklyn nurture your work as musicians?
Brooklyn is definitely a wonderful place to create art. You are surrounded by people who are driven by creativity. We are surrounded by an insanely inspiring group of artists that all support each other creatively and emotionally. That's the community that everyone has had a part in creating together.
But it's by no means the only place in this country where that is the case. NYC has always been a place that is inviting to all walks of life; however, it's becoming increasingly difficult to live there cheaply, and I'm sure that will dictate where music scenes will pop up in other cities around the country.
Last time you were in Minnesota, you played at the 7th Street Entry; now you'll be playing at the Cedar. I know you breeze through towns pretty quickly, but did anything strike you about the Minnesota audience? Do you have any expectations coming back here?
Minnesota was awesome. The audience was really energetic and receptive. The Current was really fun, too; the facilities there are beautiful and really show how important great radio is to the city.
Tune in to The Current and visit thecurrent.org on Friday, Feb. 14, for a special Lucius announcement.
Download a free and legal track, courtesy of Lucius
Note: To download the track, you will sign up to Lucius's email list; this service is not affiliated with The Current.

Resources
Related Stories
Lucius perform live in The Current's studios Ahead of their show tonight at the 7th Street Entry, the Brooklyn, N.Y.-based indie-pop band fronted by singers Holly Laessig and Jess Wolfe stopped into The Current's studios to chat with Mary Lucia and to play a few songs off their album, Wildewoman.
---
comments powered by

Disqus