On The Ball with Mark Wheat: From Norwich to New York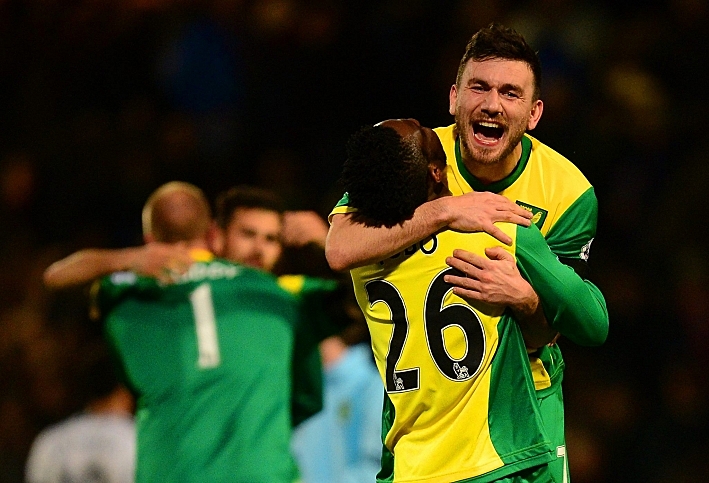 On the Ball with Mark Wheat is a new Monday feature on The Current that celebrates the connections between music and soccer, with an eye to the past weekend's results. Listen Mondays at 7 p.m. as Mark plays the music selection of the week.
Don't think I've mentioned it yet on this blog, but as a young boy, although I supported Man Utd, the closest big team to where I lived was Norwich. So I went to see them more than anyone else and do have a soft spot in my heart for them. Interesting, then, to see the game against Spurs on Sunday morning turn emotional for everyone at Carrow Road. The Executive Director was shown in tears in the stands at the end of the game, because apparently he had said that if Norwich City F.C. lost, he would fire the manager, the well-liked Chris Hughton. Norwich City won, beating Spurs for the first time since the '90s! This meant that my prediction of Spurs getting the Top 4 place looks less likely, though; a gap of 6 points has opened between them in 5th and Liverpool in 4th.
Norwich City in a critical position (via NBC Sports)
Even though Man United won, they are still 11 points out of the top four with only 11 games to go. Their only route to The Champions League would be to win it this year, they resume that quest on Tuesday in Greece against Olympiakos, who just signed on for the summer tournament here with a game against Man City scheduled for Aug. 2 at the TCF Bank stadium!!
A couple of weeks ago, I discovered another EPL fan in public radio. I was a guest on Soundcheck, the daily music show out of WNYC in NYC. One of the new artists I raved about was Courtney Barnett. The host of the show, John Schaefer, agreed with my praise, saying they had booked her to be on their show during her first short trip to America.
Unfortunately, we didn't agree when it came to talking football; John, you see, is another Arsenal fan!
We asked John about how his love of footie came about:
"I discovered soccer when I was a kid completely by accident. There was nothing on TV and I turned to the UHF channels, which I never did because I wasn't sure how that weird little round antenna worked. There on the Spanish-language channel was a soccer game — the World Cup, 1974. I didn't speak Spanish (though I recognized "Alemania" as meaning "Germany"), and since it was UHF, the picture was all snowy; it was like watching a transmission beamed from an alien planet. I was hooked.
"But hooked only on the World Cup. Every four years, I became a soccer fan again, and like many Americans of my generation who didn't have a U.S. team to root for, I rooted for the country in front of my hyphen (Italian-Americans rooted for Italy, for example; I rooted for West Germany). But when my daughters began playing soccer, I was pressed into service as a coach when it became evident that I knew the game. My younger daughter turned out to be quite good, and was recruited to play travel soccer. I was then recruited (again, reluctantly) to be the head coach. And for 10 years, between 2001 and 2011, I essentially had a second job, coaching mostly in the highly competitive Long Island league, where we won two league cups and were never relegated.
"I never played regularly as a kid, though I have been playing in a regular Sunday morning game for almost 10 years now — excepting 2008 when I was recovering from knee surgery after doing a very professional job of tearing ligaments and meniscus in one of our games."
How did you become an Arsenal supporter? Have you ever been to any games at the old Highbury or at the Emirates Stadium? Do you have any special stories of seeing Arsenal play in person or just from your general fandom of Arsenal?
"I used to visit London every summer, mostly to record concerts and interviews, and I got pretty friendly with some musicians, managers and publicists, most of whom were based in North London. They were about evenly split between Tottenham and Arsenal supporters, so I suppose I could've gone either way. Since it was always summer when I was there, I didn't get a chance to see either team play live, but back home in the States, there were occasional chances to see Manchester United on cable TV. Watching United play Arsenal, then under their still-new coach Arsene Wenger, convinced me that I never, ever wanted to be a United fan, and that Arsenal played a mesmerizing brand of football.
"I have recently found that when I tell people from Britain that I am an Arsenal fan, it is important to add that I became a fan before the 2003-04 season — the year of "The Invincibles." (We had the Arctic Monkeys in the studio a few months back and got to talking football, and when I mentioned being an Arsenal fan, one of them immediately asked, "Since when?" with a clear note of suspicion in his voice. I said "since about 19..." and that was enough.)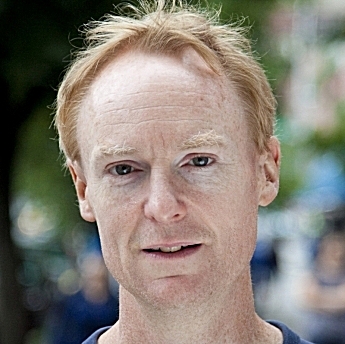 WNYC's John Schaefer
"I still haven't seen the team live; plans to attend the Arsenal-Tottenham game last Labor Day weekend were scotched when my friend in London couldn't get tickets; but the plan is to see them sometime this year.
"Meanwhile, I'm afraid my biggest memories of the team are all nightmarishly similar: Jens Lehmann getting sent off against Barcelona in the Champions League final in Paris; Robin Van Persie getting a second yellow — a totally unfair card, too — against Barcelona in the Champions League at the Camp Nou; and now Wojciech Szczesny being sent off versus Bayern in the Champions League at the Emirates. I'm beginning to worry I'll never see them raise that one big cup."
You had been involved in a global soccer show for the BBC World Service, Sports World. How did you get that gig? What was your role in the show? What were the pressures of contributing to a worldwide footy show?
"In the run-up to the World Cup in South Africa, the BBC wanted to find an American who was both comfortable on the radio and knew enough about soccer to talk about it on the air. We are a partner station, so they asked our program director for suggestions, and since my soccermania is a very poorly kept secret, he asked me if I'd do it. Basically, the BBC World Service would invite me on once a month — they had a rotating cast of characters from around the world, and when they wanted the American viewpoint they'd ask me. But a year and a half ago, there were some budget cuts and big shake-ups at the Beeb, and the show was moved from London to Manchester, and the staff and format changed somewhat. So I didn't hear from them till last month, when the current producer got in touch and invited me back. (The question: "Would soccer, and specifically the MLS, eventually take its place among the so-called Big Four of American sports?" My reply: Yes, soccer will inevitably become a top four sport, probably at the expense of hockey — but it won't be MLS that does the trick; it's more likely to be continuing TV access to the English Premier League, and possibly Spain's La Liga.)
"In addition to talking football, we would occasionally talk about other sporting events of the moment — the Super Bowl, for example; the NBA; the U.S. Open, etc. Not being familiar with the show beforehand, I really didn't feel any pressure at all about contributing to it. In fact, on my first or second outing, we were discussing the use of lie detectors (this might've been after a match-fixing scandal in Indian cricket — I don't really remember), and I ended up blurting out what the crew found to be a very entertaining story of having passed a lie-detector test that I had no business passing. The next day, it occurred to me to wonder how many people had heard my little tale, and I was appalled to find that the show, at that time, had something like 80 million listeners. I may have watched what I said a little more closely after that. Or maybe not..."
When you interview musicians, do you ask them about soccer? Have any artists surprised you when you learned they were soccer fans?
"With musicians from outside the States, I will usually ask if they're fans of the local team, or better, if they're fans of one among two or more local teams. Those are usually fun conversations.
"The biggest surprise was learning from Robert Plant that he was a Wolverhampton Wanderers fan — and more than that, was involved with the club itself. (He was also, for a time, coaching his son's travel team.) When Robert said that, I replied "Oh, Sir Edward Elgar's team," and he immediately nodded and said, "Yes, he'd be bicycling to the Wolves game while working on the Enigma Variations in his head.' "
Thank you, John! Courtney Barnett's radio appearance will be on John's show tomorrow.
Barnett has only booked a few USA shows so far, at the weekend wowing the sold-out Washington DC crowd.
I can't find a direct soccer link in this video, but there's a sport reference. Check out the scorer at the tennis game impersonating a young Bob Dylan, or John Cooper Clark!
Which games did you watch this weekend? What team do you support? Share your thoughts in the comments section below.
Resources
Related Stories
On The Ball with Mark Wheat: FA Cup, Champions League, Walker Art Center In this week's On The Ball, Mark Wheat has a look at the FA Cup, the Champions League and at a tenuous connection to Barcelona that leads to a cool music pick from Sufjan Stevens.
On The Ball with Mark Wheat: Meeting a Coaching Legend It was another mind-boggling week in the Premier League, with Arsenal getting thumped by Liverpool and Norwich City shutting down the Manchester City scoring machine. Closer to home, Mark Wheat got to meet a coaching legend: Sweden's National Women's Team (and former U.S. Women's National Team) coach, Pia Sundhage. She shares her insights -- and her music!
On the Ball with Mark Wheat: Like a Pass in Reverse This week, Mark takes a look at which sides in the Premier League showed character -- and which did not; meanwhile, a vital Monday game pits Chelsea against Manchester City. Plus, a look ahead to a luncheon with 2012 FIFA Coach of the Year Pia Sundhage, and a Brazilian-style rainbow pass demonstration from none other than Annie Clark, aka St. Vincent.
---
comments powered by

Disqus