Weekend Arts Roundup: Union Depot, Mixed Blood and Matisse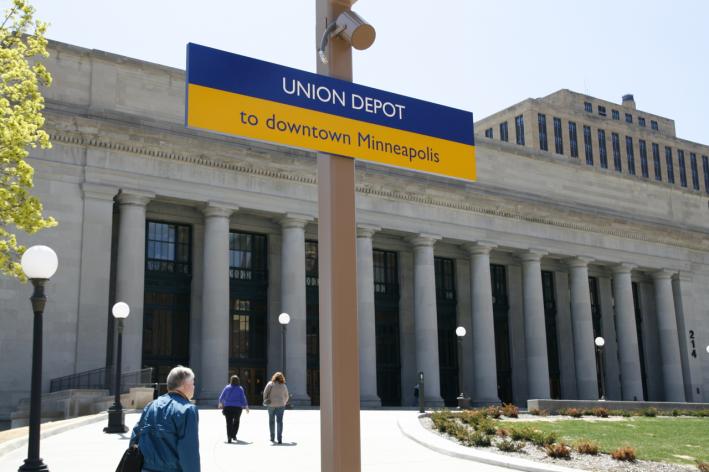 MPR News Arts Reporter Marianne Combs joins Steve Seel and Jill Riley to talk about public art at Union Depot, a new production at Mixed Blood Theater and an Henri Matisse exhibition at the Minneapolis Institute of Arts.
Union Depot — The downtown St. Paul railway station was in the national consciousness given President Obama's visit to Union Depot this week, but Marianne points out there is a lot of public art on offer at Union Depot, including an "archaeological find" now on display. There's no admission fee to enter Union Depot, and Marianne encourages visitors to look up, down and all around to see the art on display there.
The Sun Serpent — Written by José Cruz González and directed by Rachel Bowditch, The Sun Serpent is the story of Anáhuac, a young boy who sees Cortés arrive and wonders if he is the Sun Serpent of Aztec legend (Quetzalcoatl), rising from the sea to bring peace and free his people from the oppression of Moctezuma. Realizing otherwise, he sets out to warn his older brother, who's marching with the conquistadors. This all-ages show involves three actors using three languages and multiple masks and costumes to play the role of more than 20 different characters. The Sun Serpent is staging at the Mixed Blood Theatre in Minneapolis until March 22.
Matisse: Masterworks from the Baltimore Museum of Art — This new exhibition at the Minneapolis Institute of Arts spans six decades of Matisse's prolific career, with an emphasis on the artist's earliest works, this special exhibition features 50 works of painting and sculpture, 30 prints, and the artist's book Jazz. Most of the artworks are drawn from the legendary Cone Collection, assembled by two Baltimore sisters — Dr. Claribel Cone and Miss Etta Cone — with an unrivaled passion for modernism and Matisse. The exhibit runs until May 18.
Marianne Combs joins The Current's Morning Show for the Weekend Arts Roundup every Thursday at 8:30 a.m. Read about all the latest arts news at the State of the Arts blog at mprnews.org.
Related Stories
Rock the Cradle: March 2, 2014 The Current presents Rock the Cradle on March 2, 2014. It's a free day of fun for kids and their grown-ups, held at two of the state's premier arts and culture institutions, the Minneapolis Institute of Arts and the Children's Theatre Company.
In Minn., Obama pitches $300B infrastructure plan President Barack Obama said Wednesday he will ask Congress for $302 billion to update aging roads and railways, arguing that the taxpayer investment is a worthy one that will pay dividends by attracting businesses and helping put people to work. Obama announced his plan at the Union Depot rail and bus station after touring a light rail maintenance facility.
---
comments powered by

Disqus