Arcade Fire, live from First Avenue, Sept. 29, 2005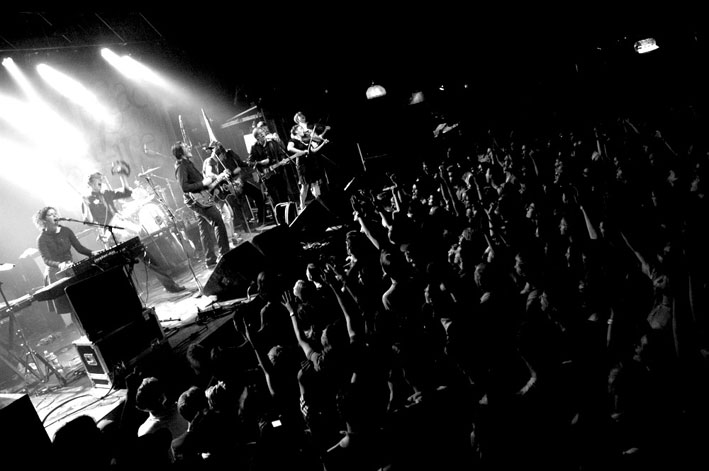 Almost one year exactly after their debut record Funeral released, Arcade Fire made their second Twin Cities stop in Minneapolis for a sold out show in First Avenue's mainroom.
With Arcade Fire returning to town this Saturday at the Target Center in support of Reflektor, we thought there was no better time to dust off our meticulously-mixed professional recording of one of the most talked about shows among Arcade Fire fanatics.
Set list
Segment 1
Neighborhood #1 (Tunnels)
Crown of Love
Headlights Look Like Diamonds
No Cars Go
Segment 2
Haiti
Neighborhood #2 (Laika)
I'm Sleeping in A Submarine
Five Years (David Bowie cover)
Neighborhood #4 (7 Kettles)
Segment 3
Neighborhood #3 (Power Out)
Rebellion (Lies)
Wake Up (encore with Wolf Parade)
Were you at the show? What stands out for you as the highlight of the show? Let us know in the comment section below.
Guests
Related Stories
Arcade Fire live from Los Angeles Arcade Fire played Capitol Records studios in Los Angeles on Oct. 28; the eve of their highly-anticipated 'Reflektor' album release. With their recent announcement of live shows throughout the country,you'll want to hear this incredible hour-long show, (Sun. Nov. 17 at 10 p.m.) including an amazing tribute to the late Lou Reed.
Theft of the Dial: Arcade Fire Richard Reed Parry of Arcade Fire stopped by the Current studio for another edition of Theft of the Dial. He brought a playlist and shared his DJ skills before the recent Arcade Fire show at the Roy Wilkins Auditorium. We also talked about our shared love of The Price is Right.
2 Photos
Arcade Fire

(© Steven Cohen / Used with permission

)

Arcade Fire with Wolf Parade on stage playing "Wake Up" to close the show.

(© Steven Cohen / Used with permission

)
View 1 more photos
---
comments powered by

Disqus