On The Ball with Mark Wheat: Song for the Non-League Sides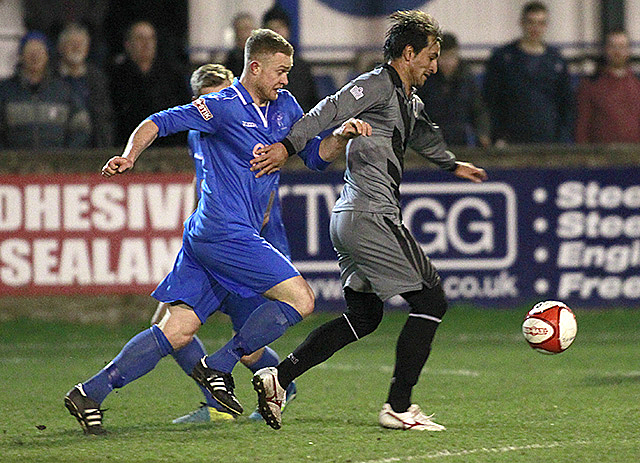 On the Ball with Mark Wheat is a Monday feature on The Current that celebrates the connections between music and soccer, with an eye to the past weekend's results. Listen Mondays at 7 p.m. as Mark plays the music selection of the week.
After last week's blog on schadenfreude, I had several emails and live conversations about when or if it is ever OK. I had felt obliged to say that it was never OK, but now I think otherwise. Perhaps it's a natural need of ours to show it occasionally, and through sports, is perhaps a healthy way to do it. As long as we don't carry it too far into "real life". Compassion for others in trouble is surely preferable. Schadenfreude is obviously a big part of every fan experience whether it's the Yankees or the Packers that you "hate on". And I must say that supporting what is often described as the club with the biggest fan-base on the planet, I'm sure that many of you have felt some schadenfreude about Man United's demise as champions this year — go for it! We deserve it; I'm at a loss to explain what is going on at the club — quite frankly, it's mind boggling and a little exciting to be in unknown territory for us as fans.
Perhaps my bout of schadenfreude is the reason for this weekend's loss, though? Immediate payback from the soccer goddesses? That's the way karma works, right? Let's not start about that now! But 3 PK's?!?!? Are you kidding me? That's NEVER happened before, to anyone!
Manchester United v Liverpool highlights, via NBC Sports:
Whatever the reasons for the Liverpool win or the equally inexplicable Arsenal win (again Spurs were unlucky, dominating the open play), added to the Chelsea debacle at Villa, the weekend results made the Top 4 even tighter. That means the title race for the next 10 weeks will be wild! And it doesn't involve United for the first time in BPL history, that has to be good for the league!? It's great to have such an exciting run in for the first season on NBC.
To follow up on some of our past blog topics:
When we got the chance to have lunch with Pia Sundhage, she mentioned that her Swedish team were drawn against the USA at The Algarve Cup this week. I said, "Wow wouldn't that be great for you to beat them, break their unbeaten run?" She smiled so wide and almost giggled at the prospect. Well, they did! In the very first game of a tournament, that didn't turn out well for the USA; Sweden won 1-0. USA's final place of 7th is about as big a fall for us as the Man Utd BPL position. Sweden finished 4th and Germany beat Japan in the final. Congrats to tiny Iceland for coming 3rd! That's like Sheffield United winning the FA Cup … almost!
And our friends at MN United have been on a pre-season trip to the UK, enjoying some success on the field and meeting some big names off it! They keep a great diary, and they announced this week that when they come home, we'll be able to watch them on telly!
Today in England, Minnesota United faced Championship League club Derby County FC, losing 2 - 0. The Star Tribune's Paul Duncan is in the UK visiting family, so he wrote this report of today's match and interviewed MN United team president Nick Rogers.
Last week, United played Matlock Town F.C., and won that game 3 - 0; you can read all about that match in Paul Duncan's report for the Star Tribune.
Minnesota United v Matlock Town FC, via MN United:
Matlock is a small town in the Midlands and play in what we call non-league, the footie equivalent of the minors in baseball. To give you an idea of what lower-league football sounds like to a fan, here's Gareth Paisey, from the Welsh band Los Campesinos! who were in Texas for SXSW, talking about his local team with Web publication The 405:
"I support a football team called Welton Rovers and I have done for all of my life, for better or for worse, I think I'm probably a fourth- or fifth-generation supporter. They're the team that is from the town that I live in, and from being taken to watch them — as my mum says, as soon as I was old enough to wear warm clothes — my dad would take me and I've gone there ever since. I'm a season ticket holder and I'm now on the Board, I'm a Director, I'm the Programme Editor. It's something I'm incredibly, incredibly passionate about, and I can't seem to drag myself away from.

"We're in the Toolstation Western League First Division, which I believe is ninth stage of the football pyramid? So it's proper lower league — our attendances average about 60 a week or so — but we have decent facilities, we have a stand, we have a fenced-off pitch, and within the local area it's a club with a lot of history. At the turn of the 20th century, Midsomer Norton (in Somerset), where the club is based, was a mining town and you'd get over a thousand people attend every home game!"
Here's what Gareth sounds like on Los Campesinos' biggest hit, which promoted them from being a non-league band! Let's try to make it up to 5 million views!
What games did you watch during the weekend? What are your thoughts? Share your comments below.
Resources
Related Stories
On The Ball with Mark Wheat: Northern Soul The hubris of certain Premiership managers stirs some schadenfreude in Mark Wheat this week; plus, exciting results from the FA Cup shift Mark's attention to Wigan and the musical subgenre known as Northern Soul.
On The Ball with Mark Wheat: A Roundup of Soccer Talk & Tunes A busy weekend for Mark Wheat meant not as much soccer-watching as usual, but it certainly didn't cut down on the soccer-related conversations and news, plus a surprising music pick.
On The Ball with Mark Wheat: From Norwich to New York This week, Mark looks at a big result between Norwich City F.C. and Tottenham Hotspur. Mark also interviews John Schaefer of WNYC's music program 'Soundcheck' about Schaefer's love of the game (and Arsenal). Plus, news about a chance to see Man City in Minneapolis, and we finish with a music pick from Courtney Barnett.
---
comments powered by

Disqus