Howler perform in The Current's studio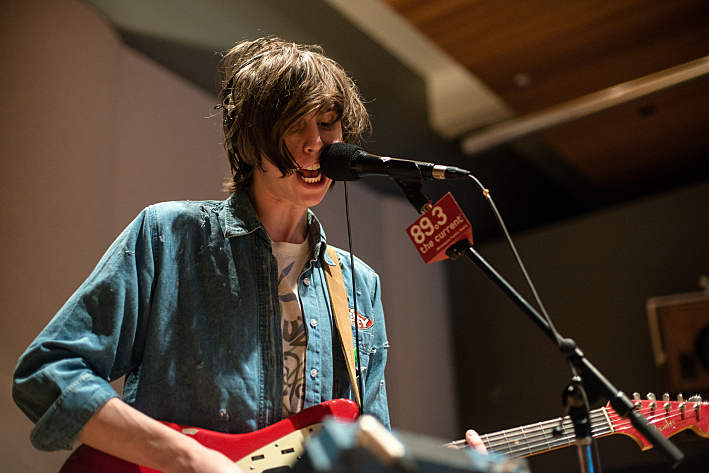 Plenty of Minnesota bands have found international audiences, but few enjoy such an avid following abroad that, within hours of releasing new music, they can find British teenagers posting cover versions on YouTube.
That's what life is like for Howler, the ferocious young quartet who landed a deal with Rough Trade for their acclaimed 2012 debut America Give Up. Their sophomore effort, World of Joy, will be officially released on Monday, but they're celebrating tonight with a release show at the Triple Rock Social Club.
Howler played Rock the Garden in 2012; they were at our ninth birthday party in January; and today they stopped by The Current's studios to play their epic new songs and talk with Mary Lucia about World of Joy, their history as a band, and their upcoming European tour.
Songs Performed
"Drip"
"Indictment"
"The Itch That Creeps Through My Skull"
All songs off the forthcoming album, World of Joy, out March 25 on Rough Trade Records.
Hosted by Mary Lucia
Produced by Lindsay Kimball
Engineered by Michael DeMark
Guests
Resources
Related Stories
11 Photos
Howler perform in The Current's studio.

(MPR photo/Nate Ryan

)

Howler perform in The Current's studio.

(MPR photo/Nate Ryan

)

Howler perform in The Current's studio.

(MPR photo/Nate Ryan

)

Howler perform in The Current's studio.

(MPR photo/Nate Ryan

)

Howler perform in The Current's studio.

(MPR photo/Nate Ryan

)

Howler perform in The Current's studio.

(MPR photo/Nate Ryan

)

Howler perform in The Current's studio.

(MPR photo/Nate Ryan

)

Howler perform in The Current's studio.

(MPR photo/Nate Ryan

)

Howler perform in The Current's studio.

(MPR photo/Nate Ryan

)

Howler perform in The Current's studio.

(MPR photo/Nate Ryan

)

Howler perform in The Current's studio.

(MPR photo/Nate Ryan

)
View 10 more photos
---
comments powered by

Disqus