Inside tour: Hosts' desk objects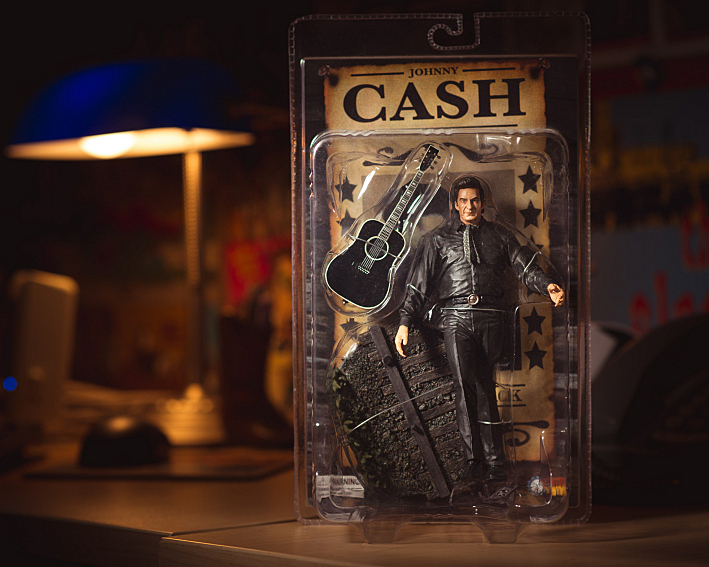 As part of Member Appreciation week at Minnesota Public Radio, the hosts at The Current have offered this up-close tour of their desks, sharing some interesting items and the stories behind them.
Jacquie Fuller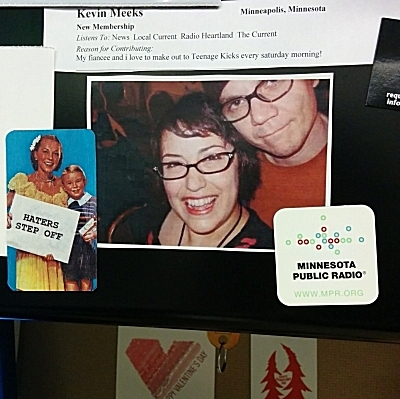 "This is a picture of me and Wilco's Jeff Tweedy, looking like best buds. I took this long before I started working in radio. I was in grad school, attending a big writer's conference (AWP) in Chicago, and Tweedy was there reading his poems. There was a long line to get his autograph and picture, and I was at the very end of it. By the time I got to him, there was no one behind me to take a picture of us, so he agreed to take our picture selfie-style (he's holding the camera).
"This picture hung in my teaching cube in grad school, so I decided to keep the tradition going by displaying it here at MPR. One can get jaded by the parade of bands coming through MPR, and it's a good reminder that there's a fangirl lurking inside me. (It's also a good reminder of how much thinner I used to be.)"
Barb Abney
"I have a can of Cincinnati chili signed by The Black Keys...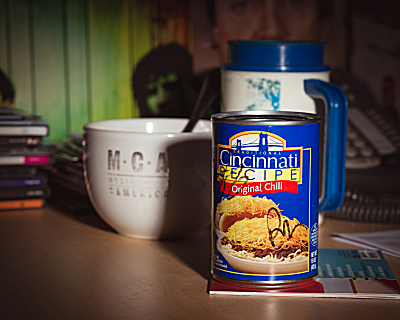 "But the coolest thing is probably my folder of interviewee autographs."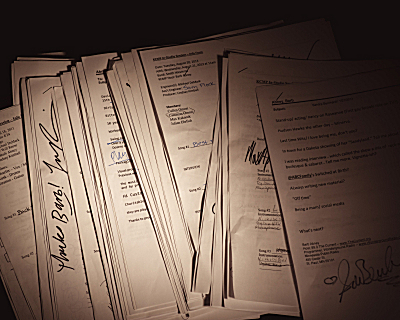 Steve Seel
"I have multiple desk mementos of choice.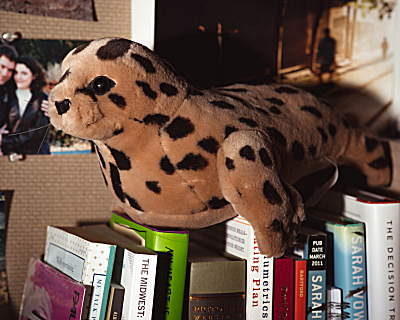 "First, my stuffed animal Harbor Seal. This dates from probably 11 years or so ago. I was doing weekend overnights on Classical MPR; I was having a particularly TERRIBLE night, and so my wife came down to the station with a gift of 1) donuts and 2) this stuffed animal seal, which she found close to the checkout line at Cub strictly by accident. It's very meaningful to me.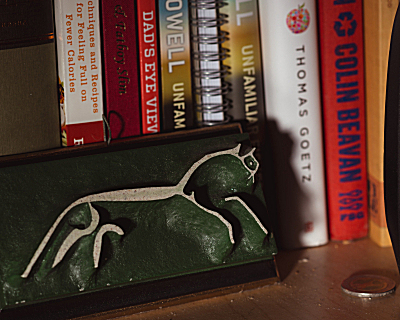 "Second, my ceramic Uffington Horse, which currently sits to the left of my computer screen.
"Back in 2011, I visited Oxford with my wife and family, and I found this ceramic depiction of the horse in a shop. It's significant to me for two reasons, because it is also the image on the cover of XTC's English Settlement, one of my favorite albums of all time. XTC is from Swindon, an industrial town close to Uffington."
Andrea Swensson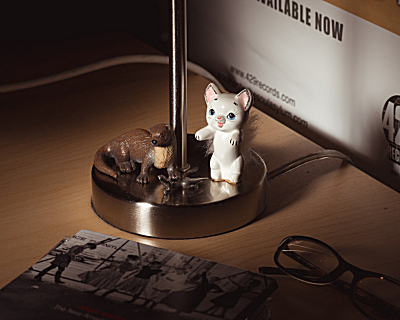 "All three of these little guys were special gifts. The kitten was given to me by my bestie Stacy for my birthday; she has a matching kitten statue and when you put them together, they hug! The pewter otter was a trinket that my friend Tasha had carried with her for years and which she kindly bestowed onto me recently. And the other otter (something about me must say "give this lady otters") was a going-away gift from my boss at City Pages. I think of them as my power team and look to them for inspiration when I have to write about a song with banjos in it."
Jim McGuinn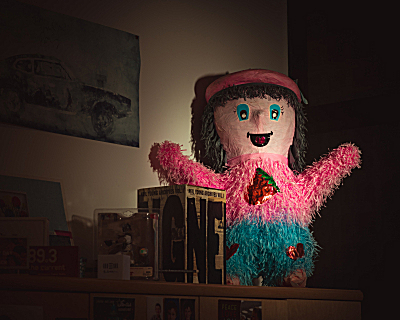 "People are often quite interested in the weird piñata on my shelf."
Mary Lucia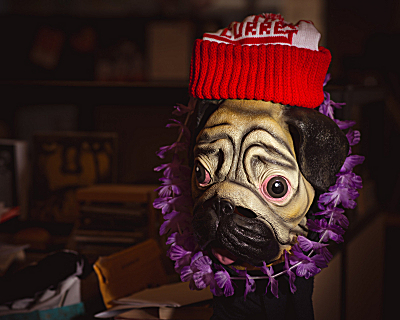 "My Smudge mask. Maybe we can give him sunglasses?"
Jay Gabler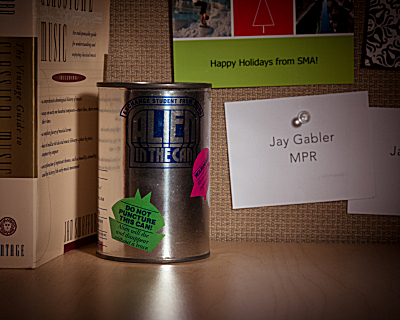 "I bought my Alien in a Can in the late '80s at Ax-Man Surplus in St. Paul. It came with a little booklet explaining that the alien has immigrated from another planet to sample human brainwaves. All the alien needs is to sit there in the can to lead a long, happy life — in the can. If you shake the can, something rattles around in there. When I was a kid, this can was a major conversation piece in my bedroom, with friends and relatives unanimously urging me to open the can and see what's inside. I've never opened it, and now the alien sits with me at my desk, basking in brainwaves from not only me but my cube neighbors Bill DeVille, Steve Seel, Mary Lucia, Mark Wheat and Andrea Swensson. After 20 years in my mom's attic, this must be quite a treat."
Bill DeVille
"There is my still-sealed Johnny Cash Action Figure in my cube!
"It was a Christmas present some years ago. No great story, just nice to have the Man in Black in my cube. It makes me feel right at home!"
Jill Riley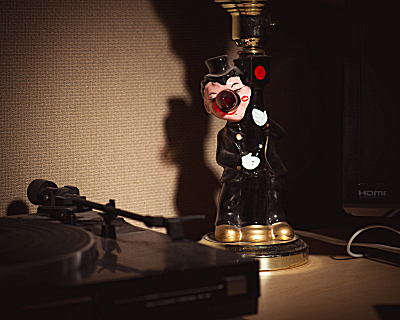 "The street light/drunkard lamp is kind of funny because when I was growing up, we had the same exact one in our basement in the rec room. Ours broke and had to be thrown away … then years later at MPR, Jeff Esworthy from Classical MPR had the same lamp on his desk and gave it to me. I was pretty psyched to have found a replacement for that lamp that reminds me of being home."
Mark Wheat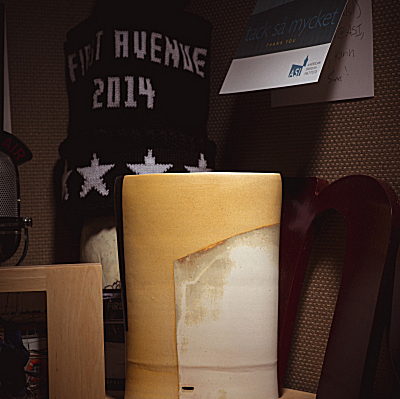 "The missus is a ceramic artist with a studio/gallery in North East Minneapolis. I love all her work, but I have to grab a piece if it really strikes me because she tries to sell everything! I use one box for paperclips, I have a sugar bowl for teatime and a great vase [pictured] for the occasional bunch of tulips or lilies to brighten our cube farm."
Jade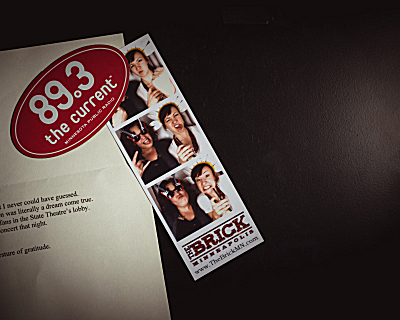 "This is a photo booth souvenir of me at Barb Abney at The Brick, just before it was remodeled and turned into Mill City Nights. I laugh a little every time I look at it."
Related Stories
1 Photo
The Current celebrates Member Appreciation Week from March 24-29 2014.

(MPR Graphic / Tracy Kompelien

)
---
comments powered by

Disqus