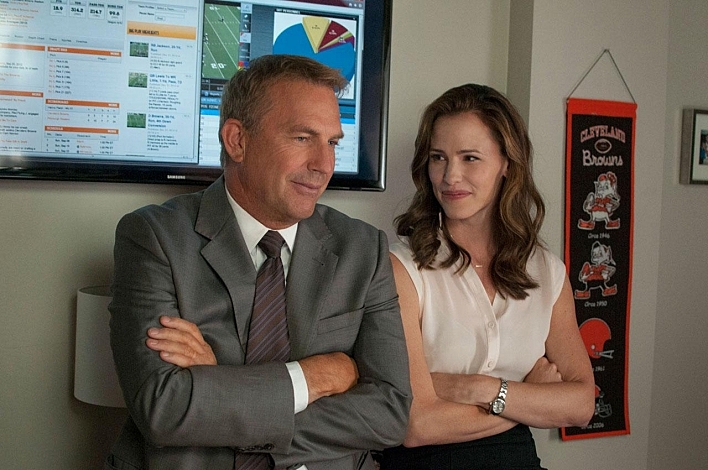 MPR's Movie Maven and Cube Critic Stephanie Curtis joins Steve Seel and Jill Riley to talk about a new sports film directed by Ivan Reitman and starring Kevin Costner and Jennifer Garner.
In Draft Day, Costner plays Sonny Weaver Jr., the fictitious general manager of the NFL's Cleveland Browns. Sonny senses his mortality and wants to have a chance at grasping the brass ring. The action centers on "draft day," the day when NFL teams choose the best college players for professional careers. Besides Costner and Garner, the film also stars Denis Leary, Frank Langella, Rosanna Arquette, Sean Combs and Chadwick Boseman.
Stephanie says Boseman's performance in particular is noteworthy, but that the film suffers from what she feels is an incongruous film score. Listen to the audio to hear more about Stephanie's theory about the music.
Draft Day is rated PG-13, and is playing at a theater near you.
Draft Day, official trailer:
Have you seen the film? What do you think of it? Do you agree or disagree with Stephanie's theory about the film's music score? Share your thoughts in the comments below.
MPR's Movie Maven, Stephanie Curtis, joins The Current's Morning Show to talk about films every Friday at 8:30 a.m.
Resources
Related Stories
Movie Maven: 'Jack Ryan: Shadow Recruit' MPR Movie Maven and Cube Critic Stephanie Curtis talks to Steve Seel and Jill Riley about the reboot of the films based on the Tom Clancy espionage character. Plus, the Cube Critics take a look at cinematic reboots.
Movie Maven: 'Man of Steel' Stephanie Curtis reviews a summer blockbuster: the new Superman film, directed by Zack Snyder and starring Henry Cavill, Amy Adams and Michael Shannon.
Kevin Costner takes art appeal to SD top court The Hollywood superstar paid Peggy Detmers $300,000 to make the sculpture in the 1990s for a resort he planned in South Dakota's Black Hills.
---
comments powered by

Disqus