The Current's Guitar Collection: G. Love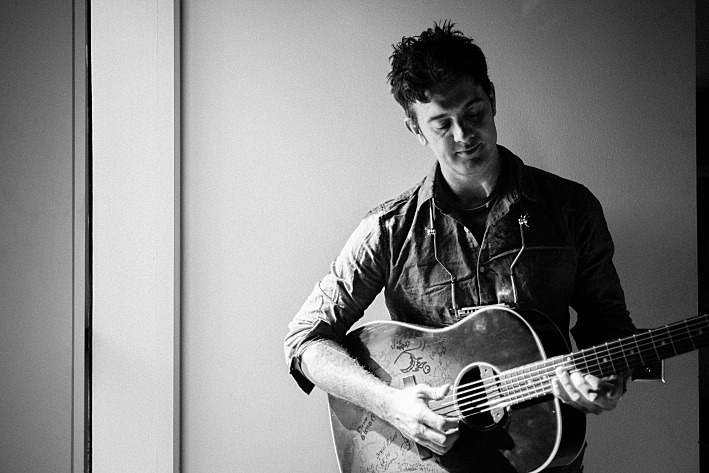 When G. Love stopped in to The Current's studio to play some songs off his new album, Sugar, he had a few moments to tell us about his guitar before heading off to his show at First Avenue.
It turns out G. Love's guitar is more than an instrument; it's also where he collects the autographs of his favorite artists. Here's what he had to say:
Is this a vintage Gibson?
No, this is a newer J-45, maybe a 2006 or 2008.
Do you remember where you got it?
Yes — I got it from Gibson in Austin, Texas.
Have you typically played Gibsons?
Yeah, actually. Back in the day, a friend of mine had lent me a 1930s Gibson J-45, and then I kind of really fell in love with the J-45 as my preference for an acoustic guitar. So I now have three of them.
And yeah, I've been lucky enough that I kind of have been given all three of them from Gibson on loan — and they just never seem to make it back home to Gibson, but they sure did find a good home with G. Love! (laughs)
Did you choice of Gibson come about through the Robert Johnson connection?
For me, my main acoustic influences are people like Robert Johnson, and notably, John Hammond.
When you think of acoustic players, you think about people who are either going to go with a Martin or a Gibson; those are the two most popular acoustic brands for professional musicians. So you'll see that a lot of the folk singers and flat-pickers and bluegrass players will play a Martin, while most blues guys will go with a Gibson, so I kind of naturally went with a Gibson.
Plus, I always kind of wanted to have a different look, and a lot of acoustic guitars are that natural-wood finish — the blond thing you see on a lot of Martins, for instance. I always liked the Gibson because it was a sunburst, and that's what I'd seen John Hammond playing on one of his earlier record covers. For me, especially early on in my career, I always wanted to have everything that John Hammond had, and that's why I chose the Gibson.
Did you write a lot of the album Sugar on this one?
Yeah! I probably have written a number of … well, I couldn't say! I don't know, man! I do have a [shedload] of guitars. I do have a little problem with it!
Speaking of writing, I'd be remiss if I didn't ask you about all the writing on your guitar …
Well, I play a lot of festivals, and I always have one main acoustic that I travel with when I'm doing festivals and fly dates and stuff. So now I've got two "signature" guitars.
The first one, my other J-45, started when I was interviewing Slash for ESPN one time, and I just thought, "I've gotta have Slash sign my Gibson." So he signed it on the back. And then I was like, "That's cool!"
So then I just started asking anybody that I was a fan of to sign it, so on that one I have the Beastie Boys and Big Daddy Kane and Warren Haynes, and I have Kelly Slater and Jimmy Buffet and Dave Matthews and Ben Harper and a lot of people to the point where that guitar is probably worth, I don't know, $100,000 autograph-wise? Maybe I'm wrong, but it's probably right because a lot of collectors like autographed guitars!
Anyway, this one in particular is getting pretty solid. I have guitar great Roy Rogers; my buddy Citizen Cope; Elvin Bishop, another great blues player; Mary Clayton, who sings on "Gimme Shelter" and is on my new record; Slightly Stoopid; Wayne Coyne of the Flaming Lips; Ronnie Wood from the Stones; all of Steel Pulse; actually Mavis Staples is on there, but the guy from Steel Pulse signed right over her; Ben Harper's on this one, too; Jeff Lockhart, who's an amazing guitar player from Boston, he's kind of an unsung hero; and Jack Johnson.
The thing about it is I play it and it gets sweaty and then you start to lose some of the signatures, so that's why if I get enough on this eventually, I will probably just retire it and leave it at home.
Monetary value aside, the sentimental value to you has to be enormous.
Yeah! Well, that's what it is: It kind of reminds me that one of the best parts of my job is to get to rub shoulders with a lot of amazing musicians. It's pretty cool.
Resources
Related Stories
G. Love performs in The Current studio In town to play a show at First Avenue in Minneapolis, G. Love stopped in to The Current's studio to play a solo acoustic set and to talk to Barb Abney about his forthcoming album, 'Sugar'.
G. Love performs in The Current studios Philadelphia's G. Love has been steadily cranking out his unique style of ramshackle hip-hop blues for two decades now, both with his backing band Special Sauce and solo.
G. Love performs in The Current studios Garrett Dotton III - also known as G. Love - was born in Philadelphia, PA. He began playing guitar at the age of 8 and wrote his first song by the time he was a freshman in high school. With influences such as Bob Dylan, John Hammond Jr., The Beastie Boys, Run-DMC and Schooly D, you'd probably wonder what the music of G. Love would sound like.
4 Photos
Signatures on the face of G. Love's Gibson J-45 guitar.

(MPR photo/Nate Ryan

)

G. Love performs in The Current studio.

(MPR photo/Nate Ryan

)

Multiple signatures adorn the body of G. Love's GIbson guitar.

(MPR photo/Nate Ryan

)

G. Love performs in The Current studio.

(MPR photo/Nate Ryan

)
View 3 more photos
---
comments powered by

Disqus