John Mark Nelson performs live in The Current studio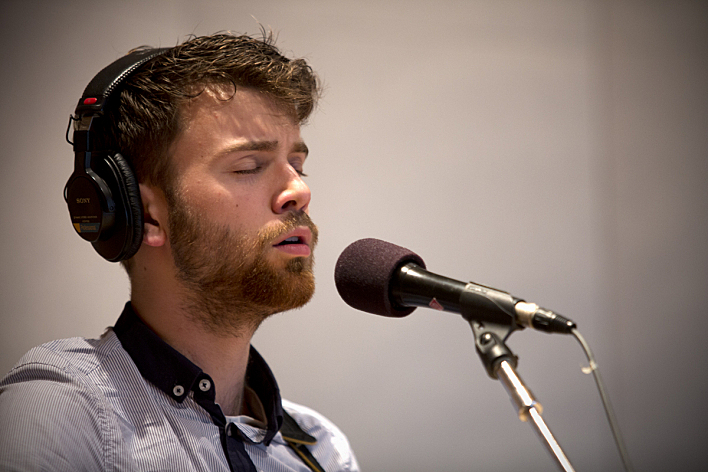 With three records to his name, John Mark Nelson has already accomplished more than the average 20-year-old musician. To celebrate the release of his latest Sings the Moon, John Mark Nelson stopped by The Current studios to chat with the Local Show host David Campbell and to play songs off the new record.
John Mark Nelson's previous two records were bedroom endeavors. This time around, John wanted to record Sings the Moon in a studio, realizing he would have to give up some creative control. So John enlisted mandolinist Matt Patrick to co-produce the album. Together Patrick and Nelson used a more collaborative approach and even recruited local standouts Jeremy Messersmith and Jeremy Ylvisaker (Cloak Ox, Alpha Consumer) to appear on the album. They took stabs at different recording techniques and instruments, too, like recording a guitar take through walkie-talkies and using a music stand and rubber bin as underlying percussion on the studio version of "A Place of My Own."
Listen to the full in-studio session to hear John Mark Nelson chat with Local Show host David Campbell about the records' lyrical story, what records he and Campbell picked up when they went record shopping together and as Christopher Guest fan, what music group from A Mighty Wind he and his band identify with most.
Songs Performed
"A Place of My Own"
"Shorebird"
"Boy"
All songs off John Mark Nelson new record, Sings the Moon, out now.
Related Stories
John Mark Nelson - Boy John Mark Nelson - Boy
John Mark Nelson performs in The Current studios When people hear John Mark Nelson's music for the first time, the sense of disbelief is usually evident. With arrangements that recall songwriters who have been in the business for decades, the 18-year old - and recently graduated - Minnetonka High student is turning heads for the mature compositions he's been recording since the age of 14.
8 Photos
John Mark Nelson performing "Boy" live in The Current studio.

(MPR / Leah Garaas

)

Aaron Fabbrini, John Mark Nelson and Kara Laudon performing live in The Current studio.

(MPR / Leah Garaas

)

Aaron Fabbrini on the pedal steel guitar performing live in The Current studio with John Mark Nelson.

(MPR / Leah Garaas

)

Benjamin Kelly performing live in The Current studios with John Mark Nelson.

(MPR / Leah Garaas

)

Matt Patrick, co-producer of Sings the Moon, performing live in The Current studio with John Mark Nelson.

(MPR / Leah Garaas

)

Kara Laudon, John Mark Nelson and Aaron Fabbrini performing live in The Current studio.

(MPR / Leah Garaas

)

Gabriel Hagan performing live with John Mark Nelson in The Current studio.

(MPR / Leah Garaas

)

Matt Patrick, Benjamin Kelly, Gabriel Hagan and Nate Babbs (not pictured/in the drum booth!) performing live in The Current studios with John Mark Nelson.

(MPR / Leah Garaas

)
View 7 more photos