On The Ball with Mark Wheat: A New Season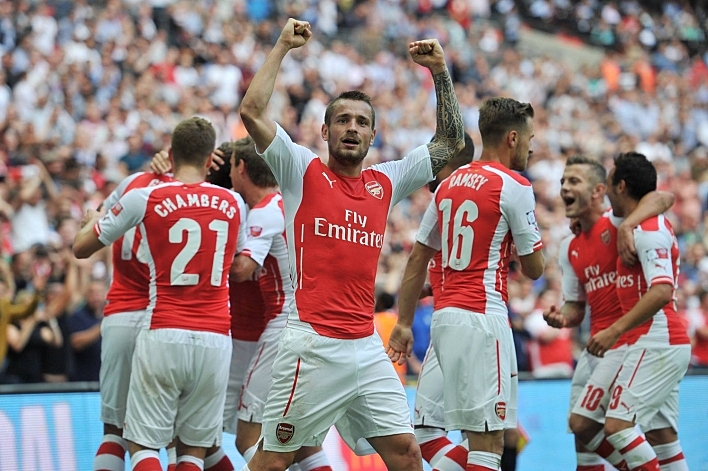 Literally one week and a day after playing here in Minneapolis, Man City were back the familiar territory of Wembley Stadium to play the first ceremonial game of the new English footie season, The Community Shield against Arsenal.
Perhaps because of their cross-Atlantic travels, City seemed unengaged during the first half and Arsenal deservedly led 2-0 at the break. Arsenal increased that lead to 3 with a superb strike from Olivier Giroud and never looked like losing, but with both teams making many substitutions, City did get the better of play towards the end, hitting the post and forcing Szczesny into making several good saves.
The game comes out of a tradition of charity: The money raised by the gate and merchandising is funneled down to all the teams within the Football League. It is played between the holders of the Premiership and The F A Cup winners, but is often used to — as Sir Alex once famously put it — "gauge fitness." With some members of the squads still being rested after World Cup duty, it was not an accurate reflection of what we might expect from either side, but I must say that I was impressed with Arsenal, and the way they've strengthened their squad means they should legitimately have high hopes of winning the Prem this year — especially if Giroud can produce more goals like yesterday and his fellow striker Sanogo keeps up the good form he has shown in pre-season play. They were without Ozil and Podolski (a fave of mine who I still think can be a key player for them), and if they can avoid too many injuries, unlike last year, I think they finally have squad depth that is necessary for a Championship season. The same could be said of their London rivals Chelsea, who seem to have scored big in the offseason transfer market, bringing Didier Drogba back and another fave of mine, Cesc Fabregas, from Barcelona. I predict we'll see a serious London tussle for the top spot this year!
Man City seem to have found a novel new way of building squad depth; their management recently bought a new franchise in New York, called … NY CITY! A brilliant move to try to foster the sport and support here in the USA. They quickly signed Frank Lampard, ex-England captain and stalwart for Chelsea for most of his career. But now they have released him on a free loan to Man City to help strengthen their European Champions League aspirations. This also seems to circumnavigate the UEFA rules of how much money can be used to build a team. But the Etihad group also own teams in Australia and Japan, and so those rules will have to take the new global business model into account — heady days indeed.
United seem to have reacted well to their new boss, so of course, the Manchester teams and Liverpool will also be in contention, but after last season's topsy turvy-ness and my dreams for a little team like Costa Rica coming big in the World Cup, let's hope we get another "surprise" team barging into the Top 6, along with the forever hopeful Spurs and Everton.
Will the newly promoted teams stay up? Burnley might find it hardest, although the club is one of the founding teams of the League, it has rarely been able to sustain prolonged bouts of Premier League membership and the economics of the modern game surely will not help them stay long this time. Queen's Park Rangers, though, have another old fave of mine, Harry Redknapp, as manager, and I fancy him to figure out a way to survive. Leicester City should do reasonably well after amassing 102 points last season in The Championship — that's 22 more than QPR who ended up winning the playoffs to get promoted! Unfortunately it's the people of the Midlands who might also be in for more woe, as West Bromwich Albion and Aston Villa could slip down this year.
The new English Premier League season starts this coming Saturday, and again, every game will be shown on various NBC channels and on the Web; it's never been easier to follow your fave teams. This blog was started last year to coincide with the added exposure of The EPL, because I thought I could offer a unique perspective on the game and its traditions, especially if you were just getting started with watching the EPL. It seemed to make perfect sense to expand the blog's life to include The World Cup and it truly was a joy for me to watch the fandom of the game here in the Twin Cities and the rest of the country expand over the summer. But it doesn't make sense to continue to do this blog for this new season. It has been an honor and a thrill for me to share my passion for footie with you every week, but to do you, the audience, justice, I should watch as many games as possible every week and put a lot of time and energy into writing the text and finding those musical links. That time will be used valuably this coming year, fulfilling other career and personal goals, like going to more yoga classes on Saturday mornings! So this will be the last OTB and there will be no musical link this week as I will be at the Walker Art Center spinning tunes, and Mac Wilson will be filling in — ironically having a session with The Baseball Project at 7 p.m.!! And coincidentally, there happens to be a great football/music connection on today's missed heard lyrics post; check out the cool artwork for my pick!
And don't forget you can join our Fantasy EPL League; simply use this link and you'll be added automatically after you've entered the game. You shouldn't need the league code, but just in case here it is: 576712-146966. Huge thanks to the dozen or so blokes who already have joined, but … where's the female fantasy fandom?!
Thanks for all the great feedback and interaction, stay safe on the real and virtual terraces and be peaceful to one another, even if you support different teams!
— Mark Wheat
Resources
Related Stories
---
comments powered by

Disqus