Bill DeVille's State Fair Music Preview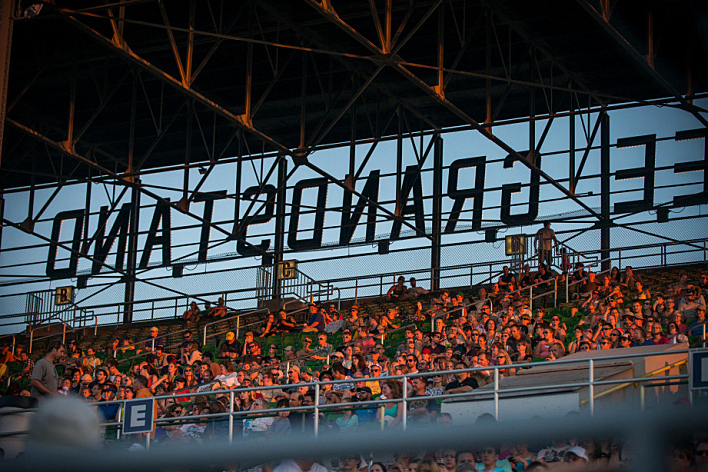 Lots of people know I love the Minnesota State Fair, and everyone knows I love music. So put the two together and, yeah, I'm pretty happy come late August.
Right out of the gate, there are three musical acts I'm reasonably excited about at the Fair. First of all, Aretha at the Fair — I mean, the Queen of Soul. Granted, she's 72 and has had some health scares in recent years, but it's Aretha! I've read many accounts by the Star Tribune's John Bream and he's told me personally there are still moments where she is the best ever. It's not the whole show start to finish anymore, but there will be moments of pure glory. So seeing Aretha would be a real treat.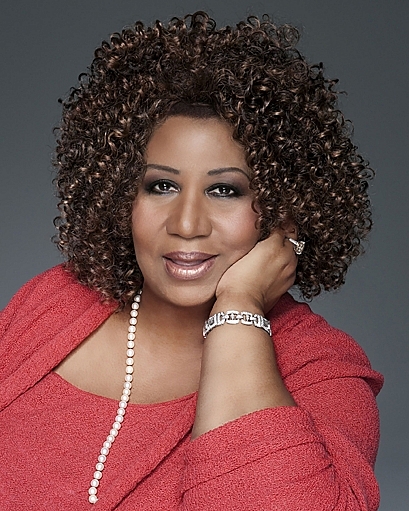 Second, Dr. Dog are performing a couple of days on the free stage — now that's pretty darn cool. The band deliver live — they always have. They're just a bunch of fun, and their albums just keep getting better, so seeing them on a free stage is pretty amazing.
And the lineup for this year's Minnesota Music On-a-Stick is as varied — if not more varied — than any year previous. It's just so cool that there's really no synergy amongst the music at all besides the fact that it's local. I mean, Bob Mould and Brother Ali and Doomtree and Cloud Cult and Har Mar Superstar, and then you've got the rootsy sound of the Cactus Blossoms; I just love them. They're Louvin Brothers, Everly Brothers-styled harmony. I think they keep getting better and I can't wait to hear what they do next, and they're just the opener! It's just a really varied lineup this year, so that's exciting.
Here are some other thoughts about the Fair, day by day:
Thursday, Aug. 21
The Cactus Blossoms are visiting The Current's stage with Mary Lucia, so that will be a treat.
And Chastity Brown — I just love Chastity. I just heard a brand-new single from Chastity called "Colorado"; the video is just going up today. It's amazing, and it's more Americana than she's ever sounded. She's just plain good. The fact that she has two days at the Fair is such a treat. Her career is certainly on the rise; she has a fantastic voice, writes good songs and is a talent to be reckoned with. She plays Thursday and Friday at the Schell Stage at the Schilling Amphitheater — that's the new stage in the old Heritage Square, so that's cool.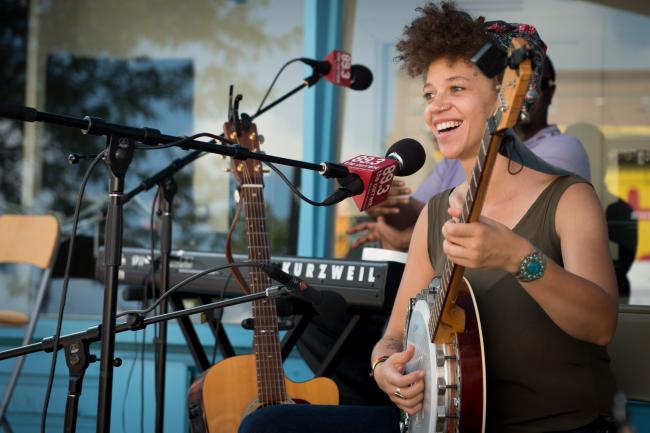 Chastity Brown performing at the MPR Booth in 2012 (MPR photo/Nate Ryan)
Friday, Aug. 22
Roe Family Singers perform a bunch of times on the DNR Outdoor Stage, not far from the MPR Booth. They're always really good. They have their weekly gig over at the 331 Club and have had it for umpteen years. Led by Quillan Roe and his wife, with my friend Dan Gaarder who used to play in Trailer Trash who plays with them, are an underrated bunch; they are pure old-time music — I mean, they play the saw! Who else has a saw? They're great; love them a lot.
And at the Grandstand, I've already spoken about Aretha, and then you've got the Four Tops — I don't think they're all four original members anymore, but that doesn't mean it's not good.
Saturday, Aug. 23
Barb Abney welcomes Nikki Lane to The Current's stage at the MPR Booth. Nikki has a new album that was produced by Dan Auerbach of the Black Keys. It's rockabilly-roots-Americana. Nikki is a really talented Nashville artist with a cool retro sound without being throwback; her music's got some modern touches to it as well. She's really talented and she's big on our station.
Then the Okee Dokee Brothers make for some good family fun at Baldwin Park; they're there a couple of days — on both Saturday and Sunday. Talk about fun for the whole family, from age 2 to 92. Plus they're Grammy winners, so you can't go wrong.

The Okee Dokee Brothers performing at Rock the Cradle 2012 (MPR photo/Eamon Coyne)
Over at the Ramberg Senior Center, the Mellow Fellows could be interesting; they're a Chicago R&B, blues-soul band. It used to be Big Twist and the Mellow Fellows, but Big Twist died a few years ago, but the band members have kind of carried on. They were road warriors around the Midwest for a number of years.
Sunday, Aug. 24
At the Schell's Stage, the White Iron Band is kind of a Minnesota's version of Southern Rock. They're good; I've played them a bit on United States of Americana. And speaking of road warriors, they're a hard-working band, gigging every weekend somewhere in the Midwest it seems like. And Nicholas David, who found national attention on NBC's The Voice, started out as their keyboard player.
Monday, Aug. 25
Playing at the International Bazaar stage, the Jack Brass Band is always kind of fun; it's local guys doing their version of a New Orleans horn band.
And the Happy Together Tour at the Grandstand is made up of the Turtles and other '60s warriors on there.
Tuesday, Aug. 26
This day is kind of a senior-centric lineup!
Wednesday, Aug. 27
Dr. Dog are playing the first of two nights at the Leinie Lodge Bandshell!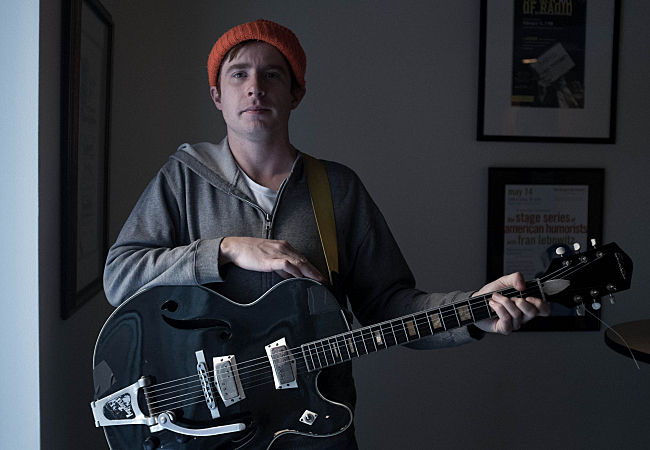 Scott McMicken of Dr. Dog with his Silvertone guitar (MPR photo/Nate Ryan)
And at the Schell's Stage, you'll find Deke Dickerson and the Trashmen. I just had a chance to see Deke Dickerson a while ago; he's kind of a rootsy guy. I saw him with the Reverend Horton Heat. He's a guitar player, a singer-songwriter guy; he's a big, tall guy in a cowboy hat. And for him to be playing with the Trashmen? I think that sounds like a whole bunch of fun. That's a pretty cool show.
Thursday, Aug. 28
Philadelphia band Dr. Dog, which we've already talked about, will play their second night at the Leinie Lodge Bandshell.
Friday, Aug. 29
This day is MPR Day, and we've got the Ericksons — I just love the Ericksons. Mike Pengra and I were probably the first two in the country to champion the Ericksons; Mike was first and I was right after him. We're both big fans. They sent me something and the first time I heard it, I was struck by the drop-dead gorgeous harmonies. Their last album, Bring Me Home, was recorded at Bon Iver's studio over in Wisconsin, April Base.
I've played the Ericksons on the Americana show. I was going to be involved in the MPR stage show on this day, but that's the day we take our daughter to college — can't miss that!
At the Leinie Lodge Bandshell that night is Buckwheat Zydeco — a legend. One of the kings of the squeezebox; real-deal zydeco. He's been at it probably 40 years. And Will Hoge, who has the earlier sets, is kind of a Nashville, Americana singer-songwriter guy.
Of course, my big disappointment is that those were the slots that were supposed to be Sturgill Simpson, who disappeared from the calendar. I have no idea if that was the Fair or Sturgill or a combination of both: too popular? Budgets? I have no idea.
I know when I met Sturgill in Nashville and I asked him about that, he was excited about coming here to play two days at the Fair. Those are great gigs for musicians; you don't have to load in/load out between shows, and you can get a hotel room for the night without having to travel between gigs. So that was a disappointment.
Sonny Knight and the Lakers are doing a couple nights at the International Bazaar — I think they're fantastic. Strong album, dynamic band and he's a fantastic performer. They'll gain some new fans by playing the show — they're going to sell some units. And two back-to-back sets? I think the two sets will probably roll right into the other; maybe a costume change in between and that's probably about it. And the International Bazaar is a cool stage, too. I like that spot quite a bit. It breaks my heart we won't be there!
The 4onthefloor are playing the Schell's Stage for a couple nights. Gabe Douglas and company are always good. They've had some lineup changes but they're carrying on. Gabe's got a couple new guys in the band, and I imagine he's got some new recordings on the way. They're a great live band.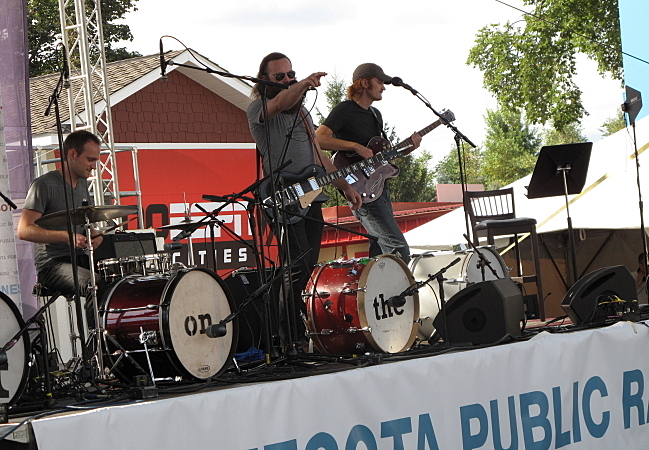 The 4onthefloor perform on MPR Day at the 2011 Minnesota State Fair (MPR photo/Luke Taylor)
And then Friday night, Garrison Keillor and A Prairie Home Companion perform at the Grandstand with musical guests Aoife O'Donovan, and Jearlyn and Jevetta Steele.
Saturday, Aug. 30
It's Minnesota Music On-a-Stick day! What more is there to ask?
Sunday, Aug. 31 and Monday, Sept. 1
These last two days bring a couple things there used to be more of at the Fair: first is Cash'd Out, a great Johnny Cash cover band who will play on the Schell's Stage in the former Heritage Square. And playing three sets earlier in the day on the same stage is the bluegrass of the High 48s, a local band; they're really good, too.
As a big-time Johnny Cash fan, I'm hoping to catch Cash'd Out because I'll be working at the Fair at the MPR booth that afternoon. Cash'd out hail from San Diego and have some 150 Johnny Cash tunes in their arsenal.
See you at the Fair!
Resources
Related Stories
MN Music-on-a-Stick 2014: Brother Ali, Doomtree, Bob Mould, Cloud Cult, Har Mar Superstar, Cactus Blossoms to rock Minnesota State Fair Grandstand The Current is proud to announce the lineup of its third annual MN Music-on-a-Stick showcase at the Minnesota State Fair: Cloud Cult, Bob Mould, Doomtree, Brother Ali, Har Mar Superstar, and the Cactus Blossoms will take the Grandstand stage on Saturday, August 30.
MPR at the Minnesota State Fair Visit our booth near the corner of Judson and Nelson to meet some of your favorite hosts, see live programs, sign up for a terrific giveaway, get member freebies, and purchase some Pretty Good Goods!
Subscribe to our State Fair Music Newsletter There is music all over the Minnesota State Fairgrounds. This year, don't miss a beat! Sign up to receive a free, daily email about music at the State Fair, all compiled by your friends at MPR.
---
comments powered by

Disqus