The Current's Guitar Collection: Tim Showalter of Strand of Oaks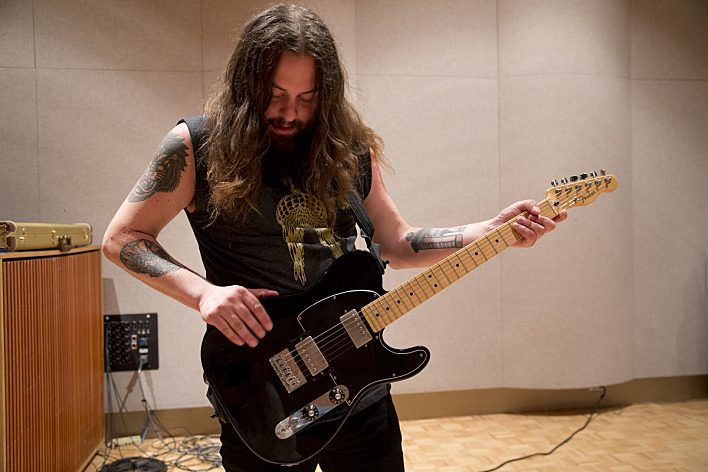 Strand of Oaks were in town to play a gig at the 7th Street Entry, and they also stopped by The Current to play an in-studio session hosted by Mark Wheat.
At the end of the session, Strand of Oaks' amiable frontman Tim Showalter took a few minutes to tell us about the guitar he used during the session. Turns out it's his favorite one.
It looks like you're playing a Fender Telecaster, maybe with modifications?
This is a pretty standard — I think it's the Mexican Tele — it's really heavy. It was actually a gift for my 30th birthday from my wife. I've always been a Tele player, but this one in particular has kind of the weight and feel of a Gibson Les Paul, and there's a lot of sustain on it that I really, really enjoy. It's a punchy, punchy guitar.
It doesn't record well, but it plays live really well, so that's why I love it. I have other ones for recording, but this guitar is kind of my pride and joy.
That's such a nice gift; did you wife tell you how she found this one?
She kind of has good taste when it comes to anything, whether it's food or clothes — I guess she also has good taste in guitars! And I'm so glad it was in black, too, because it's the only color I wear.
When you're writing, do you write on this guitar or on another instrument?
I mostly wrote this album, HEAL, on keyboards and piano; a lot of the songs were based there. But most of the guitar-oriented songs on the record were written on this guitar.
Actually I have another Tele that's a thin-line, '72 model with the F-hole in it that I like. It has more of a subtler, brighter sound. But we rock these songs so hard, that you need a beefy kind of guitar to make it happen!
So this guitar is your workhorse?
Yeah, it's been everywhere around the world. I might just buy a second one just to have it, because I don't think I would play a different kind of guitar at this point. I like to have the consistent sound.
You say this guitar has been all over the world with you; do you have any stories from the road about it?
Yeah! We left it outside the Bowery Ballroom in New York once, just kind of sitting against the wall. We forgot to pack it, and I got home and luckily this angel — Steve, the bouncer at Bowery Ballroom — is just the nicest guy in the world. Somehow, through channels, we found out he had found the guitar, had taken it back to his house and it was safe and sound.
We almost lost it! I was very nervous. It was literally just leaning against the wall on a street corner in the Lower East Side! Steve found it; we thought we lost it, but Steve had it and we got it back. It was awesome.
Did he ship it to you?
We actually have a friend who was in New York, and we live in Philly, so our friend actually got the guitar from Steve's house and brought it home. We got our guitar back!
Resources
Related Stories
3 Photos
Timothy Showalter of Strand of Oaks performing live in The Current studio.

(MPR / Leah Garaas

)

Tim Showalter of Strand of Oaks plays his Fender Telecaster in The Current's studio.

(MPR photo/Leah Garaas

)

Tim Showalter of Strand of Oaks plays his Fender Telecaster in The Current's studio.

(MPR photo/Leah Garaas

)
View 2 more photos
---
comments powered by

Disqus