Cage the Elephant's Matthew Schultz talks Dan Auerbach, Bonnie & Clyde and 'Making a Murderer'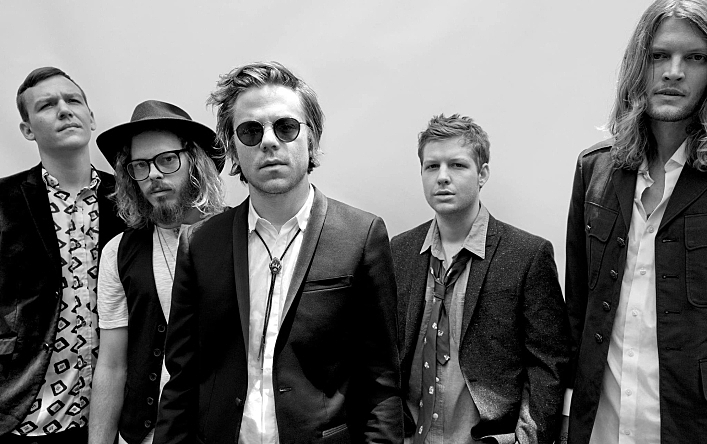 Over seven years ago we were first introduced to Cage the Elephant when they released their self-titled debut and performed live in The Current studio.
Now on their fourth full-length, Cage the Elephant frontman Matthew Schultz sat down to chat with New Hot host David Safar to talk about Tell Me I'm Pretty, how an old silent film and law-breaking couple play a part on the record, what it was like working with producer Dan Auerbach, and Schultz's Netflix queue.
David Safar: The music video for "Mess Around" uses footage from a pretty obscure film called A Trip to the Moon. How did you discover that movie and are you into old films??
Matthew Schultz: Yeah, definitely into all types of films, ones that are being made currently and old films. I had seen a remastered version of [A Trip to the Moon] and really enjoyed it and then did some research and found out more about the director. His name is Georges Méliès. He was one of the first directors that was hand painting his films so they were in color. I was very interested in using that for possibly some visual aspect that would accompany the music. What I originally intended was to film the video and then hand color it like they did back then but there weren't really any people that were doing that kind of thing so we reached out to the institution that was taking care of his films. They were really excited and encouraged us to use them and it worked out.
Where was the first place you saw this movie? Did you stumble into a movie house and it happened to be on?
Netlix.
Netflix. So what else is in your Netflix queue right now?
I just finished Making a Murderer.
What'd you think?
I'm scared to comment. Publicly. [laughs]
I'm sure you've been asked so many times what it was like working with Dan Auerbach. For our listeners and readers that haven't heard the story, how did you connect with Auerbach to make [Tell Me I'm Pretty]?
Well, at first I guess we went on a tour with the Black Keys right around the time that Brothers was taking off for them, so that was really cool to see happen. We became friends over that tour and stayed in touch and then ended up touring with them again while they were supporting Turn Blue and we were supporting Melophobia. On one of the days off, we went over to Dan's hotel and hung out. After Brad and I played him a couple of acoustic tracks he texted me and said that he was going to make our record. [laughs] So that's how it came about.
So he told you, "I'm making this record for you."
He was like, "Yeah, I'm making this record."
So fast forward, you're in the studio with him. What did you learn in the process?
Dan's strong suit is keeping you from second guessing yourself. I learned a lot from him as far as knowing when something's finished, the beauty in imperfection as well as – he would do this really cool thing where we would cut a track and then we would all go into the control room and he'd play all these obscure records. Once everyone had gotten the vibe and our headspace had changed, he say, "Okay, let's go cut this track again." So we'd go back in, and not necessarily structurally rearrange the song but in vibe and attitude it would change the song. It was a really cool experience. It was a unique trick to learn.
What is "Too Late to Say Goodbye" about? I've listened to it at elast 15 times. It's a depressing song.
I guess it is about a pretty dark subject matter. I wanted to write a song about reaping what you sow, y'know, how you make decisions in life and take actions that set certain destinies and emotion. I started thinking about the story of Bonnie and Clyde so I did some research and found that Bonnie was really misportrayed in the press. She was portrayed as a monster, a monstrous woman, but the pictures they based their stories off of were a joke. She'd pick up a gun, they'd hand her a cigar and just playing with the guys. Her big mistake was falling in love with a really terrible person, Clyde. Clyde had went to prison in his early years and had been molested and kind of had a vendetta against the whole justice system, to get back at them. I thought it would be interesting to write the story from Bonnie's perspective, but instead of Bonnie and Clyde I wrote it about someone who was a pyromaniac, so like falling in love with fire. That's how it came to be.
Guests
Resources
Related Stories
Album of the Week: Cage the Elephant, 'Tell Me I'm Pretty' For their fourth studio album, Cage the Elephant recruited producer Dan Auerbach, creating an album the veers from sonic spontaneity to taut spaciousness to lyrical astuteness. These intimate and powerful songs rock -- and Cage the Elephant deliver them with moxie.
Album Review: Cage The Elephant, 'Melophobia' The third album from the Kentucky-fried rockers Cage The Elephant is the sound of a band having fun, oblivious to anyone outside the room. The band's mix of punk, '60s garage rock and '80s alt rock creates a brew that sounds surprisingly unique.
Cage The Elephant performs live in The Current studios From Bowling Green, Kentucky and by way of the rough neighborhood of Leyton, England, Cage The Elephant have emerged onto the musical horizon with their grunge-tinged Southern punk.
---
comments powered by

Disqus