Come on! Feel the Illinoise!
Sufjan Stevens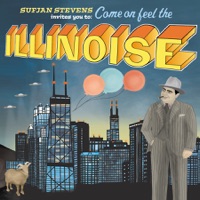 Last Played
Album
Illinois
Other songs on this album
Other songs by this artist
89.3 Holiday Disc

A Tribute To Joni Mitchell

All Delighted People EP

Carrie and Lowell

Dark Was The Night

Dream Brother - The Songs of Tim and Jeff Buckley

Greetings from Michigan

Greetings From Michigan: The Great Lake State

I Am the Resurrection- A Tribute To John Fahey

Master Mix: Red Hot and Arthur Russell

Red Hot and Arthur Russell

See You On The Moon: Songs For Kids Of All Ages

Seven Swans

Silver and Gold: Songs for Christmas

Songs for Christmas

The Age Of Adz

The Avalanche - Outtakes and Extras from the Illinois Album

This Bird Has Flown - A 40th Anniversary Tribute to The Beatles' Rubber Soul
---
Please note that our catalog only lists songs that we've set up within our system; not every track from an album is displayed. You may request a song that's not in our catalog by using our request form. You may also suggest a song be added to our catalog by contacting The Current.
---
Album art and preview audio provided by iTunes, related artists provided by EchoNest.