Where Are We Now?
David Bowie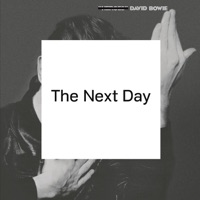 Last Played
Album
The Next Day
Other songs on this album
Other songs by this artist
89.3 Holiday Disc

?

Absolute Beginners

Aladdin Sane

B-side to the UK rerelease of Space Oddity

Bowie 89.3 Disc

Cease and Desist- A Remix Compilation By Morgan Page

Diamond Dogs

Earthling

Heathen

Heathen (Bonus Disc)

Heroes

Hunky Dory

I Dig Everything: The 1966 Pye Singles

Labyrinth

Let's Dance

Let's Dance (Bollyclub Mix)

Lodger

Love Is Lost (Single)

Low

Never Let Me Down

Nothing Has Changed

Pin Ups

Reality

Scary Monsters

Scary Monsters (And Super Creeps)

Sound and Vision I

Sound and Vision II

Space Oddity

Space Oddity (40th Anniversary Special Edition)

Station to Station

Station To Station

Station to Station

Station to Station Live at Nassau Coliseum '76

The Man Who Sold The World

The Rise and Fall of Ziggy Stardust

Tonight

Young Americans
---
Please note that our catalog only lists songs that we've set up within our system; not every track from an album is displayed. You may request a song that's not in our catalog by using our request form. You may also suggest a song be added to our catalog by contacting The Current.
---
Album art and preview audio provided by iTunes, related artists provided by EchoNest.