Event

Zombie Pub Crawl IX: Quarantine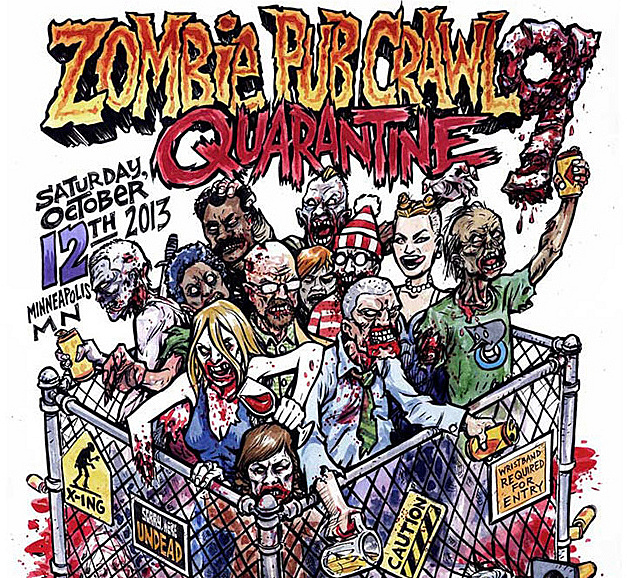 Zombie Pub Crawl IX: Quarantine is going to be a big, crazy party stretching all the way from the Cabooze, into the West Bank, through Seven Corners, and into downtown Minneapolis. A giant parking lot party has been added at 4th St. and Portland called the "Quarantine Zone," with rides, food trucks, fireworks, and a large stage.
Zombie Pub Crawl 2013 music lineup
Quarantine Zone (4th and Portland)
Sublime With Rome (8:30 p.m.)
Intermission, feat. the Devil and the Captain
A Flock of Seagulls (7:30 p.m.)
Crunchy Kids (6:30 p.m.)
Reaping Asmodeia (5:30 p.m.)
Get Cryphy Stage (Cabooze Outdoor Plaza)
Trick Daddy (9:20 p.m.)
Ying Yang Twins (8 p.m.)
Surprise guest (7:25 p.m.)
Bubba Sparxxx (6:50 p.m.)
GRRRL PRTY (6:25 p.m.)
Tha Clerb (6 p.m.)
Kill the Cultures (5 p.m.)
Southern Comfort Stage (Acadia Cafe parking lot)
Captains of Industry (8:30 p.m.)
Benzi (7:15 p.m.)
Solid Gold (6:40 p.m.)
Savannah Smith (6 p.m.)
Plus DJ sets by Kramerica Industries
Marijuana Deathsquads Stage (The Red Sea)
Marijuana Deathsquads & Friends
R Kelly's Trapped in the Triple Rock (Triple Rock Social Club)
A live and interactive sing-along celebration of "Trapped in the Closet".
ZPC Dance Stage (Cabooze indoors)
Spank Rock (DJ set)
Shuttle (Ninja Tune)
The Devil from Acapulco
DJ Sets:
Lil Texas
Wak Lyf
Asher Diamonds
Palladium
JR + Punchy
Slim Brit
Slamdunkapher
Nomad Stage (Nomad World Pub)
Dirty Dan Berube
Noam the Drummer
DJ Str8Reppin
DJ Hamster Dance
If you don't already have your tickets, get them now while they're still just $25 (prices will go up). You can pick them up at most Ragstock locations in Minnesota starting Sept. 27 (and get 20% off your zombie supplies while you're there).
Also feature at this year's Zombie Pub Crawl: the ferris wheel from Bonnaroo, a new 2013 run of "Brain Belt Cranium," Zombie 6.66K run, and debut of the ZPC World Brain-Eating Championships.
21+
Official Zombie Pub Crawl IX: Quarantine map here.
---