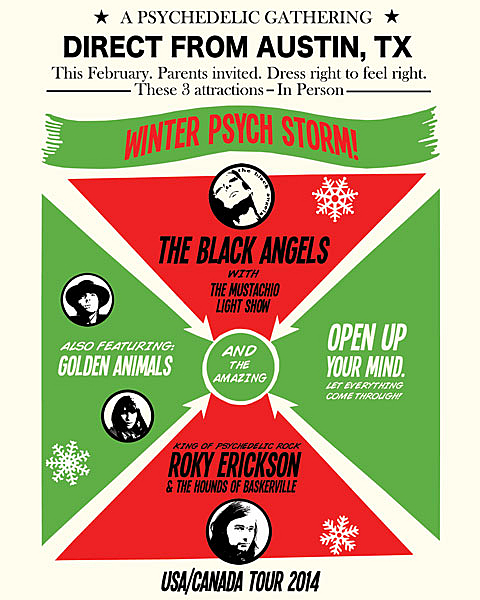 The Black Angels' most revelatory collection thus far, Indigo Meadow marks the Austin, Texas-based band's fourth full-length release, following 2010's acclaimed Phosphene Dream. Once again The Black Angels prove themselves the undisputed avatars of contemporary psychedelic rock, simultaneously exalting the genre's kaleidoscopic past as they thrust it ever further into the future.
As the core member of the 13th Floor Elevators and an undisputed pioneer of psychedelic rock, the '60s were thrilling times for Roky Erickson. His band was riding high in their native Texas and beyond and the howling single "You're Gonna Miss Me" was his calling card, but Erickson's '60s ended in the stuff of nightmares. Under sharp scrutiny by the authorities due to the band's well-expounded fondness for psychedelic drugs, Erickson was found with a single joint on his person.
Golden Animals' HEAR EYE GO is the Kickstarter-funded follow-up to the Brooklyn desert-psych duo's 2008 debut, Free Your Mind and Win a Pony. Dividing their time between the extremes of Brooklyn and the California desert since their 2006 inception, longtime friends Tommy Eisner (vocals/guitar) and Linda Beecroft (drums/backing vocals) construct tales of love, friendship and seclusion while keeping their sound simultaneously energetic and meditative.
---