The Current Beer

The Current Beer Release and Morning Show Live Broadcast with J. Roddy Walston and the Business
Hosted by 89.3 The Current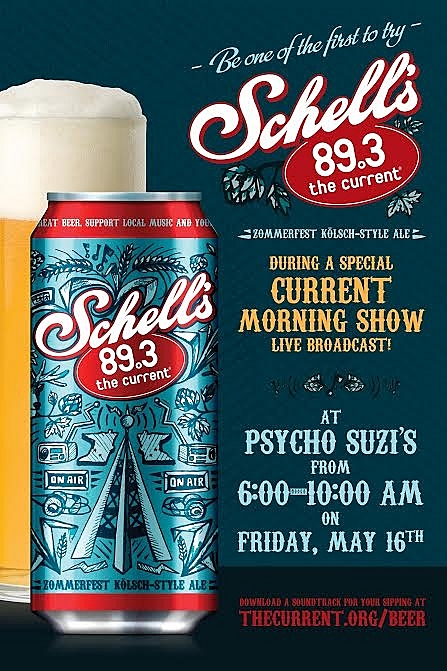 Great music lives here. So does great beer. That's why we teamed up with Schell's to create a sipping solution for your everyday soundtrack.
Noting that nothing pairs better with hot summer tunes than a cold summer brew, The Current is partnering with Schell's, the oldest family-owned brewery in Minnesota and maker of German Craft beer, to introduce a co-labeled Schell's The Current beer, available in May.
Schell's The Current beer is a limited edition of Schell's Zommerfest® seasonal offering, and will be available in 16-ounce "tallboy" cans at bars and in 4-packs at liquor stores throughout Minnesota wherever Schell's products can be found. It is a Kolsch-style ale, a light, smooth variation of German Craft.
"We know that many of our fans love craft beer, and we look at any partnership or promotion through the lens of our audience," said Jim McGuinn, program director for The Current. "Knowing what we know about our listeners, this is a natural fit."
A portion of the revenue generated from the sales of Schell's The Current beer will go back to The Current and the work it does to support local music.
---
---
comments powered by

Disqus