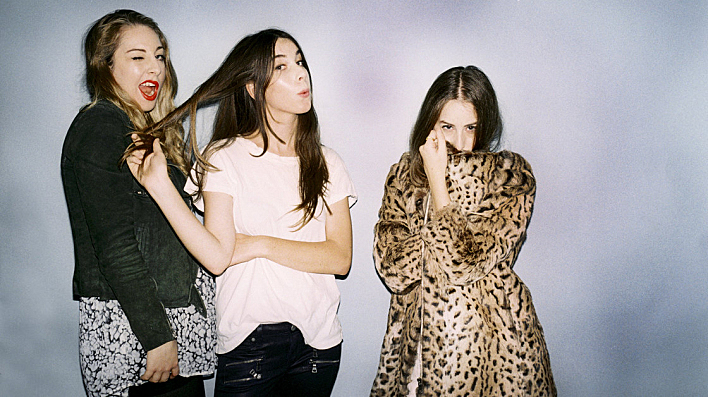 Tickets
On sale Friday, November 22, 2013, 10:00 AM
Presale on sale Thursday, November 21, 2013, 12:00 PM
$20.00
SOLD OUT
Hailing from the San Fernando Valley, HAIM consists of, "Three sisters, and a mister" that has been shaking things up in the city of Los Angeles for the past four years. It is truly a family affair for the band which prides themselves on being able to switch from instrument to instrument with complete confidence and ease, and all while singing in three part harmony. The sisters, Este, Danielle, and Alana, grew up playing classic rock songs with their parents in a family band, called "Rockinhaim," which played for charity events and street fairs. After years of playing with their parents, the girls decided to strike out on their own, and began writing their own material.
Este, the eldest of the three, plays bass guitar and found time in between touring to graduate from UCLA with a degree in Music. Danielle, the 22-year-old lead guitar player, who previously toured with Jenny Lewis, Cee-lo Green, and Julian Casablancas. Alana, the youngest in the band, plays rhythm guitar, keyboard, and percussion. Rounding out the group is Dash Hutton, who previously played drums for LA bands Wires on Fire and Slang Chickens. Over the past few years, the band has opened up for Julian Casablancas, Cold War Kids, Ke$ha, Group Love, No Age, The Bird and the Bee, Edward Sharpe and the Magnetic Zeros, Chief and The Henry Clay People.
The Southern California trio has attracted a surge of industry attention since releasing their EPs Forever, Don't Save Me and Falling. The band has also been prominently featured in Rolling Stone's esteemed Best of Rock issue and Elle's Women In Music issue, as well as recognized as "Faces to Watch 2013″ by The Los Angeles Times, "20 Bands To Watch Out For" by Complex and "15 New Stars We Love" by Entertainment Weekly. In the UK, HAIM have impressively become the first female American act to ever win the BBC's Sound of 2013, an annual poll of industry leaders to identify the most promising new music talent.
HAIM's electrifying live performances, including sold-out headlining shows at Los Angeles' Troubadour and New York's Music Hall of Williamsburg in addition to festival appearances at SXSW, Lollapalooza, Bonnaroo, Firefly and Governor's Ball, have made waves on both sides of the Atlantic. Fader has declared that HAIM's "practiced live show easily rivals any of their peers," and it is no wonder that HAIM have been asked to support the likes of Phoenix, Florence and the Machine, Mumford and Sons and Vampire Weekend on tour. Time Out New York predicted "it's safe to say that 2013 is going to be a good year for HAIM," but with the release of their debut album, HAIM are only just getting started.
18+
---