Sponsored by 89.3 The Current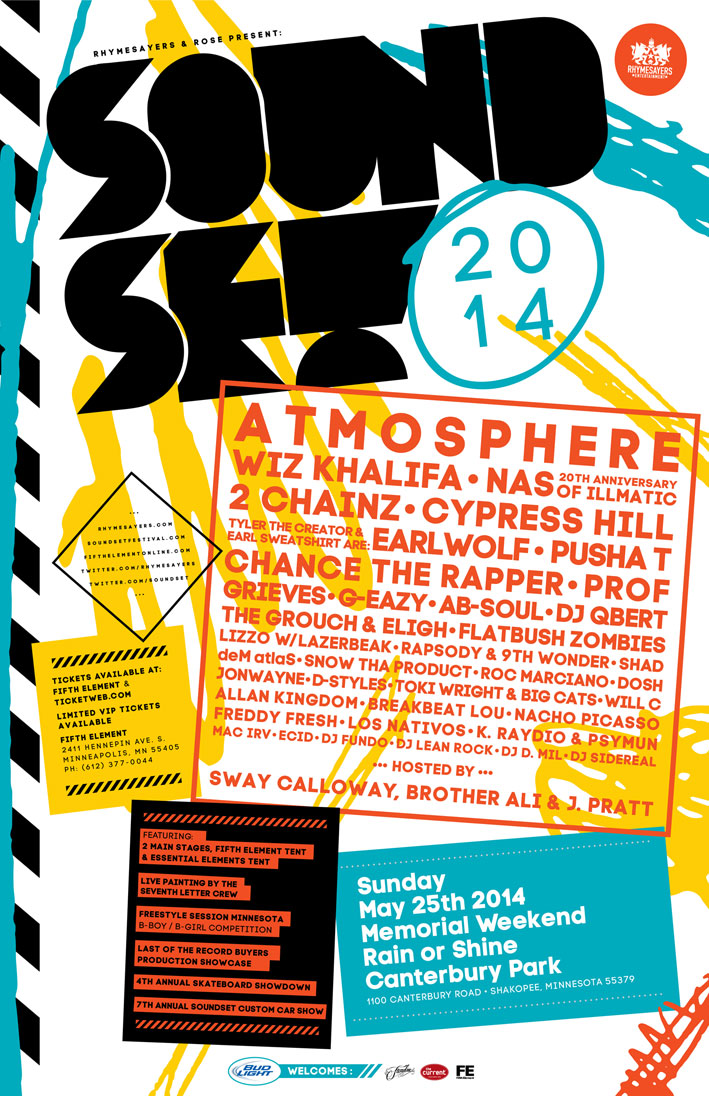 Tickets
The Current presale on sale Friday, March 7, 2014, 11:00 AM
general public tickets via TicketWeb on sale Saturday, March 8, 2014, 11:00 AM
SOLD OUT
The lineup for the biggest (and best) indie rap festival is here. The seventh annual Soundset is being held again at Canterbury Park in Shakopee, MN over Memorial Day weekend.
Set Times
Essential Elements Tent
11 a.m. DJ Sidereal
12 p.m. Dosh, Last of the Record Buyers (studio session)
1:30 p.m. Will C
2:30 p.m. Freddy Fresh
3 p.m. D-Styles
4:30 p.m. Breakbeat Lou
5:30 p.m. DJ Lean Rock
Fifth Element Stage
11 a.m. DJ D.Mil
12 p.m. Mac Irv
12:20 p.m. Ecid
12:40 p.m. K. Raydio & Psymun (feature)
1 p.m. Nacho Picasso
1:20 p.m. Allan Kingdom
1:40 p.m. Los Nativos
2 p.m. Jonwayne
2:30 p.m. Roc Marciano
3 p.m. Snow Tha Product
3:30 p.m. DJ QBert
4 p.m. Rapsody & 9th Wonder
4:30 p.m. Shad
5 p.m. Toki Wright & Big Cats
5:30 p.m. Flatbush Zombies
6:15 p.m. Lizzo with Lazerbeak (studio session)
Main Stage
11 a.m. DJ Fundo (E)
12 p.m. Dem Atlas (W)
12:30 p.m. The Grough & Eligh (E)
1 p.m. Ab-Soul (W)
1:30 p.m. G-Eazy (E)
2 p.m. Grieves (W) (studio session)
2:30 p.m. Prof (E)
3 p.m. Chance the Rapper (W)
3:30 p.m. Earlwolf (E) (Tyler The Creator & Earl Sweatshirt)
4:10 p.m. Cypress Hill (W)
5 p.m. 2 Chainz (E)
5:45 p.m. Nas (W) (20th Anniversary of Illmatic)
6:45 p.m. Wiz Khalifa (E)
7:45 p.m. Atmosphere (W) (studio sessions)
Hosted by Sway Calloway, Brother Ali & J.Pratt
Returning for their seventh Soundset, Atmosphere who recently wrapped up their fourth annual Welcome To Minnesota Tour with fellow Twin Cities artists and just announced the release of Southsiders, the duo's 8th full-length studio album. Back again for his second year as the main stage master of ceremony, is radio and television personality Sway Calloway of SiriusXM Shade 45. The main stages will also feature industry mainstay and Pittsburgh native Wiz Khalifa, the legendary NAS who will be celebrating the 20th anniversary of his classic debut album, Illmatic by performing the album in its entirety, southern hit-maker 2 Chainz who is currently on his 2 Good To Be T.R.U Tour, the illustrious Cypress Hill boasting a twenty-six year career filled with classics, and EarlWolf the brand new brainchild of Odd Future members Tyler The Creator & Earl Sweatshirt.
Soundset 2014 also welcomes Chance The Rapper, the buzzing Chicagoan whose self-released Acid Rap earned a spot on the billboard charts last year, as well as proven star and Kanye West's G.O.O.D. Music member Pusha T, who continues a successful year following the release of his debut full-length MNIMN. You'll also see performances from recent Rhymesayers signee and hometown native Prof, known for his electrifying live shows and over-the-top humor, Grieves from Seattle, who will release the lighthearted yet reflective Winter and The Wolves on March 25th, and Ab-Soul member of the infamous Black Hippy crew featuring Kendrick Lamar, Schoolboy Q & Jayrock, and next in line for a full-length release on TDE. Also hitting the main stage will be the budding rapper/producer G-Eazy and living legends The Grouch & Eligh. Opening the main stage is the newest artist to join Rhymesayers, deM atlaS, who self released his Charle Brwn EP last year to critical acclaim. This year, the Fifth Element stage welcomes headliner Lizzo fresh off her European tour, who will bring along fellow Minnesota native, and Doomtree member, Lazerbeak. Also featured on the Fifth Element stage is DJ QBert, founding member of one of the most innovative DJ crews, Invisibl Skratch Piklz. All of this and more, hosted by none other than Brother Ali.
This year, Soundset boasts a full day of two Main Stages and the Fifth Element stage, delivering over 45 artists performing nine hours of diverse music, plus the Essential Elements tent featuring Freestyle Session Minnesota B-Boy B-Girl competition, hosted by J. Pratt. In addition, The Seventh Letter Crew return to bring some of the world's most talented visual artists, who will be live painting all day. Also returning will be the 4th annual Skateboard Showdown presented by Familia, the seventh annual Soundset Custom Car Show and a special Last of the Record Buyers production showcase featuring a live production set by Dosh.
Pre-sale Information
The Current's pre-sale for the 7th annual Soundset will run Friday, March 7 from 11 a.m. until midnight, or until the allotment sells out, whichever happens first.
Password: THECURRENT
---
---
comments powered by

Disqus