Sports

2014 World Cup Opening Match at the Nomad World Pub — Brazil vs. Croatia
Sponsored by 89.3 The Current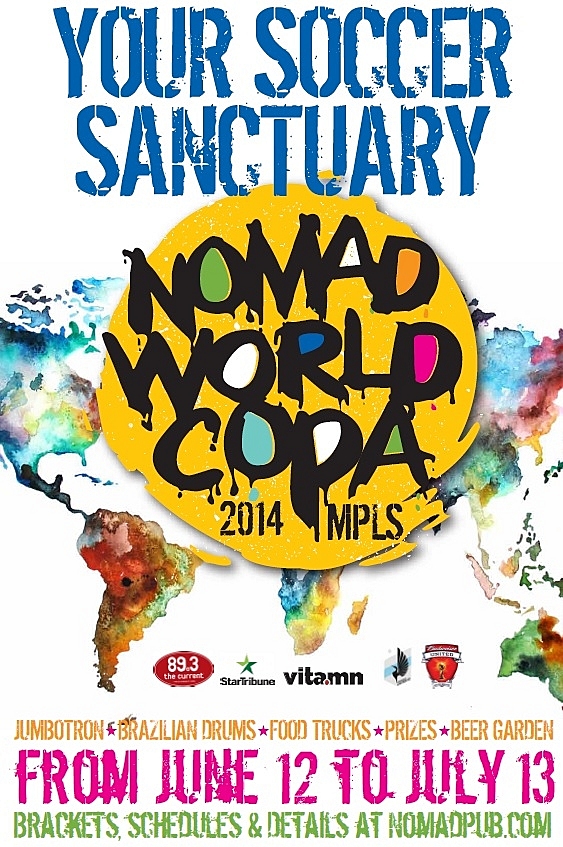 Group A – Brazil vs. Croatia
Watch the first match of the 2014 World Cup on a 12' x 15' jumbo screen (as well as multiple HDTV screens inside and out). The MN United FC will be onsite for player meet and greets, too!
What are Stamps?
Stamps are awarded for participation by Nomad staff. Watching matches, drinking, half-time trivia wins, random acts of kindness, dribbling mini balls, big tipping, and more. Stamps will be awarded at half time of every match. Five stampes = one raffle ticket. One raffle ticket = a chance to win a fabulous prize!
At the end of group play on June 26, the Nomad will be awarding a trip for two to the Palms Hotel in Las Vegas to watch the final match – airfare, hotel, and party included! Following the final match on July 13, the Nomad will give away a trip to see a game in the European league of their choice (EPL, La Liga, Ligue 1, Eredivisie, or Bundesliga only) during the 2014-2015 season. Additional prizes will be handed out throughout the World Cup like T-shirts, soccer balls, team merchandise, jerseys, coozies and more!
On June 26 and July 13, passport holders can redeem their stamps for raffle tickets. Remember, 5 stamps = 1 raffle ticket for the big Las Vegas trip. You must be present to win. When the winning raffle tickets are announced, winners have 10 minutes to claim their prize.
What's the Bracket?
A way to win more fabulous prizes! Throughout the tournament, you can choose who you will think will win a match on the Nomad's online bracket. Register now and start picking.
21+
---