Festival

Northern Spark 2014
Sponsored by 89.3 The Current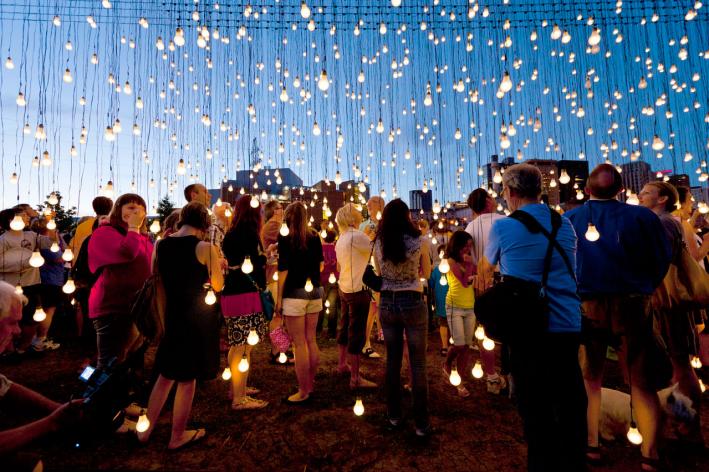 When
until the wee hours of the morning
Tickets
Beside the pancake feed and launch party, this is a free event
On the evening of June 14, 2014, Northern Spark expects 50,000 people will gather in Minneapolis to explore giant video projections, amazing temporary sculptures, and astonishing performances. Friendly crowds, food trucks, surprises, and late night adventures make Northern Spark the one-night event that people talk about for the rest of the year. With 125+ projects by 250+ emerging and renowned artists from Minnesota and far beyond, 50+ presenting cultural partners, and our sponsor Metro Transit opening the Green Line on June 14 and offering free rides all weekend, we're planning for the most lively and engaging Northern Spark to date!
Northern Spark official start & end times: 9:01 p.m. until 5:26 a.m.
Northern Spark 2014 Launch Party
At Orchestra Hall, 1111 Nicollet Mall
7 p.m. to 9 p.m.
Kick off your Northern Spark adventure with remarkable food curated by Travail, Marin, Bryant Lake Bowl, Mill Valley Kitchen, Gardens of Salonica, Black Sheep Pizza, al Vento, Sandcastle, Phillip and Desiree Dorwart from Create Catering, Whole Foods Market, and more. Sip on brews from Indeed and Oskar Blues, or enjoy a signature cocktail made with Prairie Vodka. Throughout the party enjoy ambient music by local favorite Dosh. This prelude to an all-night art romp features a toast to the Launch of Northern Spark 2014 with a special coffee shot provided by MorningStar Coffee, and raffle ticket sales for an original piece by Northern Spark artist HOTTEA. From the Launch Party, we'll head out into the night to discover the unforgettable wonder of Northern Spark.
Tickets to the Launch Party are available here . Tickets are $50 each.
Opening Ceremony: Creative City Challenge Launch and Concert
At the Minneapolis Convention Center Plaza, 1301 S 2nd Ave.
8:30 p.m. to 10 p.m.
Witness the unveiling of the winner of the Creative City Challenge, Balancing Ground, and help Minneapolis Mayor Betsy Hodges spark the night at 9:01 pm. Then look on as she creates the first drawing of the night projected 3-stories high and rock until the sun fades with musical act GRRRL PRTY. Stick around to enjoy numerous other projects from silk dyeing to yoga to catapulted wishes, or come back throughout the night.
Northern Spark 2014 Pancake Feed
At Aria, 105 N First Street
Seatings at 5:30 a.m. ($20) and 7 a.m. ($25)
Celebrate Northern Spark with the camaraderie that comes from a night spent in the company of others who adore art and the city. Chef Paul Berglund of The Bachelor Farmer joins forces with Al's Breakfast to serve pancakes to the people after a night of adventures. It's a breakfast dream team in the grand environment of Aria—the best of all possible worlds.
Featuring a special guest performance by TED artist Miwa Matreyek. And 89.3 The Current Host Jacquie Fuller will be spinning records to boost your sunrise mood. Come share your stories and your favorite pictures as part of a community Northern Spark slideshow. Tickets available here.
---