Festival

City Pages 10 Thousand Sounds
Sponsored by 89.3 The Current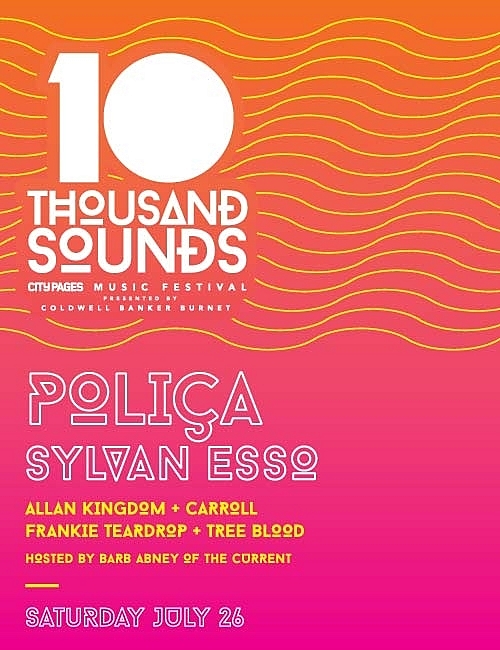 Tickets
The Current pre-sale on sale Thursday, June 5, 2014, 10:00 AM
general public on sale on sale Monday, June 9, 2014, 10:00 AM
$20-45
On Saturday, July 26, City Pages will host its 2nd annual music festival from 4 to 10 p.m. The single-stage, outdoor event will take place in the hub of downtown — just one block south of the Orpheum Theater off of 10th St. and Hennepin Ave.
Drawing on the vibrant local music scene, 10 Thousand Sounds will showcase a multi-genre lineup of renowned and emerging artists alike.
As a go-to publication for local music enthusiasts, the event is designed to give City Pages' readers an evening of live music representative of our editorial content. The inaugural festival featured breakthrough local artists such as Free Energy, Strange Names, Greg Grease, Prissy Clerks and The Chalice, while critically lauded indie rockers the Walkmen anchored the bill.
Lineup and Set Times
Polica — 8:35-10 p.m.
Sylvan Esso — 7:20-8:10 p.m.
Allan Kingdom — 6:30-7 p.m.
Carroll — 5:40-6:15 p.m.
Frankie Teardrop — 4:55-5:25 p.m.
Tree Blood — 4:10-4:40 p.m.
Pre-sale for The Current Listeners
Pre-sale for The Current listeners begins Thursday, June 5 at 10 a.m. and ends Sunday, June 8 at 10 p.m.
Password: CURRENT
Ticket Information
General Admission
General Admission tickets include festival access for all live music, entertainment, drink specials and food vendors.
Early Bird June Pricing: $20 (valid through Monday, June 30 at 11:59 p.m.)
Advance Pricing: $25 (Tuesday, July 1 at midnight – Saturday, July 26 at noon)
Door Pricing: $30*
VIP
VIP tickets include festival access through a private entrance, preferred seating near the stage, all-you-can eat Pizza Lucé, free water and non-alchoholic beverages and exclusive restrooms.
Early Bird Pricing: $40 (valid through Monday, June 30 at 11:59 p.m.)
Advance Pricing: $45 (Tuesday, July 1 at midnight – Saturday, July 26 at noon)
Door Pricing: Unavailable
---