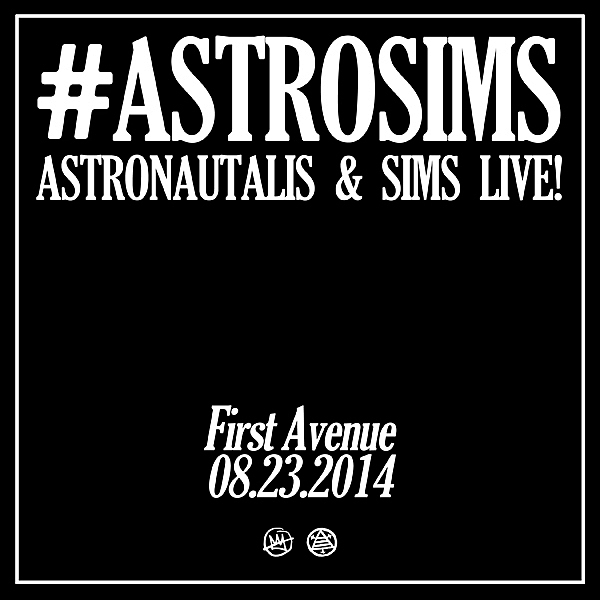 Tickets
The Current pre-sale on sale Thursday, July 10, 2014, 10:00 AM
public on sale on sale Friday, July 11, 2014, 12:00 PM
$15.00
The Current Pre-sale
Pre-sale for The Current listeners runs Thursday, July 10 from 10 a.m. to 10 p.m.
Password: AstroSims2
Sims
Restless and passionate but with an unflinching realism at his core, Sims has seen enough of life to know there are no easy answers. His second full-length release, Bad Time Zoo, released on Doomtree Records, reflects this rapper's ongoing quest for solid understanding in a society on the brink of dystopia. For Sims, it's been a long road. Andrew Sims grew up in the working-class Minneapolis suburb of Hopkins, Minn. His parents were both musicians with problems of their own, and Sims often had to look out for himself and his younger brother. "I was super short-fused," he remembers. "I got in fights almost every day until I was about 13."
He found solace in rap and R&B music, nurturing a love for mainstream hits as well as then-underground artists such as the Wu-Tang Clan. His parents didn't approve of his new love, however, so he built a secret stash of cassette mixtapes that he traded to kids at school. He soon found a gift for rhyme and begin channeling his aggression into feisty, kinetic wordplay. His rap habit quickly grew from playground cyphers to recorded projects. In high school, he met a local producer and rapper named P.O.S. who would sell him beats for $30 a pop and let him record at his house for free. Eventually, their home-recording experiment blossomed into a full-on musical enterprise that would pull in other aspiring artists and help put Minneapolis hip-hop on the map. Enter Doomtree. Hailing from the same untamed Minneapolis indie music scene that spawned both punk legends the Replacements and, 20 years later, hip-hop powerhouse Rhymesayers, Doomtree has become one of the most trusted and influential names in grassroots hip-hop.
Astronautalis
Having started in music over 15 years ago as a battle rapper, Astronautalis' roots are planted firmly in hip-hop. However, the sounds and styles on his albums are an animal not so easily caged, and his latest release, This Is Our Science is no exception to that tradition of wild genre bending. Like previous records Bothwell uses that limitless approach to aid in his vivid storytelling, but where This Is Our Science takes a turn from tradition, is in the subject matter itself. While previous records read like historical fiction, documenting the lives of the bygone, the footnotes, and the forgotten, This Is Our Science is pure autobiography. While there are flash references to scientists from the Age of Enlightenment and old dead French mountaineers, these ghosts serve merely as parallels, rest stops in the story of the last 7 years of Bothwell's romance with the road. Neither a rap record, nor a rock record, it is a work that finally captures the vein popping intensity and high melodrama of his famous live shows. All the while, maintaining the steadfast literary tradition and masterful storytelling of his previous studio albums.
18+
---