Festival

MN Music On a Stick at the State Fair
Sponsored by 89.3 The Current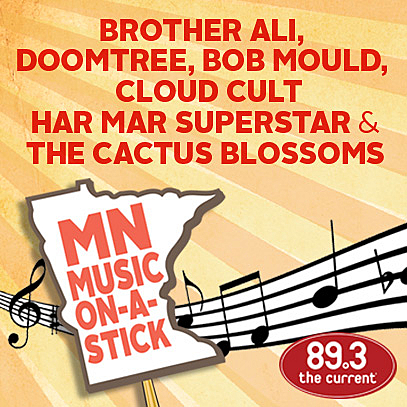 Tickets
Pre-sale for MPR members on sale Thursday, May 29, 2014, 10:00 AM
On sale Saturday, May 31, 2014, 12:00 PM
$25.00, MPR members
$30.00, general public
MN Music On-A-Stick is a one-of-a-kind event celebrating our great state of music. All artists have roots in the Land of 10,000 Lakes. The evening features Brother Ali, Doomtree, Bob Mould, Cloud Cult, Har Mar Superstar and the Cactus Blossoms.
The Current Pre-sale for MPR Members
Pre-sale for MPR members will run Thursday, May 29 at 10 a.m. to Friday, May 30 at 10 p.m. There will be a $5 discount for members, 4 ticket limit.
Password: thecurrent
General public on sale begins Saturday, May 31 at 12 p.m.
Purchase tickets here.
Set Times
3 pm. Doors
4 p.m. The Cactus Blossoms
4:50 p.m. Har Mar Superstar
5:55 p.m. Cloud Cult
7:25 p.m. Bob Mould
8:45 p.m. Doomtree
10 p.m. Brother Ali
Brother Ali is one of the pillars of Minnesota hip-hop; he's won legions of fans around the world for his smart, agile rhymes set to killer beats. Hear a 2012 performance by Brother Ali in the Current's studios here.
The Cactus Blossoms are fresh faces with a classic country sound. Their Live at the Turf Club was widely acclaimed as one of the best local albums of 2013, and they enraptured a sold-out First Avenue crowd at our birthday party in January. Hear a 2013 performance by the Cactus Blossoms in the Current's studios here.
For years, Cloud Cult have inspired fans in Minnesota and beyond with their ecstatic, bittersweet chamber pop songs. Their latest release is an acoustic live album, Unplug, culled from a series of December shows at the Southern Theater. They celebrated the release with two sold-out April shows at the Fitzgerald Theater; hear selections from those shows here.
Doomtree might just be the highest-energy crew in hip-hop, and they've stayed strong as a collective even while their respective solo careers have taken off. The Grandstand stage will never be the same after it's simultaneously stormed by Dessa, Mike Mictlan, Lazerbeak, P.O.S., Cecil Otter, Paper Tiger, and Sims. Hear a 2011 performance by Doomtree in the Current's studios here.
The jet-setting Har Mar Superstar also wowed at our ninth birthday party, riding high after reinventing himself as a soul survivor with his 2013 LP Bye Bye 17. He lent his party rocker "Tallboy" to our Schell's The Current six-pack of local songs; download the live barnburner for free here.
Bob Mould became a legend of Minnesota music as frontman of the seminal rockers Hüsker Dü, then went on to launch a successful solo career that's included albums like the cult-classic 1989 Workbook and the forthcoming Beauty & Ruin. Hear a 2011 set by Mould live in our studios here, and watch a song from his 2013 Rock the Garden performance below.
---