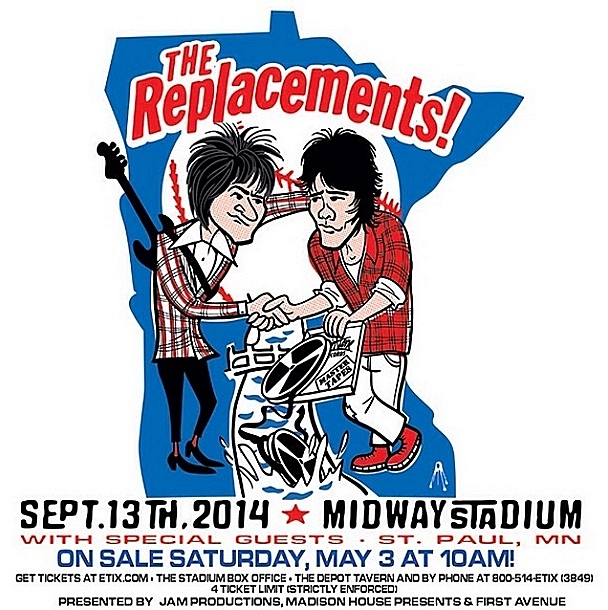 Tickets
On sale Saturday, May 3, 2014, 10:00 AM
$50.00
SOLD OUT
Before the Replacements' highly anticipated sold out hometown show, host Mac Wilson will be counting down the top 30 'Mats songs as voted by The Current listeners. Tune in from 5 to 7 p.m. on Saturday, Sept. 13 to hear the results!
The Top 30 Replacements Songs According to You
The Replacements Family Tree
Slideshow: Replacements-related landmarks in the Twin Cities
Everything You Need to Know About The Replacements' Historic Hometown Gig
1. The Replacements' Paul Westerberg and Tommy Stinson first reunited in late 2012 to record a five-track EP for the Songs for Slim series, with session players Kevin Bowe and Peter Anderson filling in for ailing guitarist Slim Dunlap and estranged drummer Chris Mars (who recorded his own track for the EP separately). The EP came out in January 2013 and kicked off a year-long tribute series that raised money for Dunlap, who played in the 'Mats from 1987 until their dissolution in 1991 and has been recovering from a severe stroke since early 2012.
2. Excitement started brewing around the idea of a live reunion show after the EP released, and many Minnesota Replacements fans traveled out of state to see them perform their first shows in 22 years at the Riot Fests in Toronto, Chicago, and Denver in the fall of 2013. (Photos, reviews and set lists from the Toronto and Chicago shows.)
3. The current incarnation of the Replacements is fronted by founding members Paul Westerberg and Tommy Stinson with support from seasoned touring musicians Josh Freese on drums and David Minehan on guitar.
4. The Midway Stadium show will be the first time in 23 years that the 'Mats have played their home state. Their last show in the Twin Cities was February 7, 1991, and was the second of two back-to-back shows at the Orpheum Theatre in Minneapolis. "Worry not about the newly sober Replacements,"Star Tribune critic Jon Bream wrote in his review of the show. "If they used to be a great attitude band while drunk, they have now become a great rock 'n' roll band." The band broke up five months later, and played their final show in Chicago on July 4, 1991.
5. The show will likely be one of the last things to ever happen at Midway Stadium. A new home for the St. Paul Saints is currently being built in Lowertown St. Paul, and the final game played at Midway is scheduled for August 28. The stadium was built for the Saints in 1982 and is set to be demolished and redeveloped following this summer's baseball season.
6. Midway Stadium has a long history of hosting live music, including last summer's memorable Americanarama show with Bob Dylan, Wilco, My Morning Jacket, and Richard Thompson.
7. Tickets for the Midway Stadium show are $50 and go on sale at 10 a.m. on Saturday, May 3 through eTix, the Midway box office, and the Depot Tavern at First Avenue. We have a pre-sale running May 1-May 2; details below.
Listen to Arguably the Best Radio Promo Ever
Permitted Items:
• Small Backpacks, small purses and fanny packs
• One factory sealed water bottle 1 L / 32 oz or less in size and/or one empty reusable bottle following the same size requirements
Prohibited Items:
• Lawn Chairs
• Food and Drink
• Balloons, Flag poles, Tables, items to stake into the field
• Chains
• Coolers
• Glass Bottles, Cans
• Large Bags, Backpacks, Briefcases
• Pets (only service animals are permitted)
• Professional cameras and tripods
• Thermoses
• Umbrellas
• Video Cameras, Recording Devices
• Any item deemed by management to be dangerous or inappropriate
Parking
In order to ensure a great experience for fans attending the event, additional parking with shuttle bus service will operate between the Minnesota State Fairgrounds and Midway Stadium prior to and following the concert free of charge. The Shuttle will operate from Lot 55 at the State Fairgrounds, which is located on the south side of Como Avenue, west of Snelling Avenue, directly across the street from the State Fairgrounds' Cattle Barn and Warner Coliseum. Shuttle service will begin at 5:00 pm and end one hour following the end of the show, approximately 12:00am. Fans will be dropped off prior to the show and picked up following the show near the Midway Stadium entrance on Energy Park Drive.
The Midway Stadium parking lot, adjacent to the stadium, will be available to fans for the show beginning at 4:00 pm, but parking is limited to the first 500 cars. The charge to park in the Midway Stadium lot is $20 cash per car. There is no bus parking in the Midway Stadium lot. Tailgating is allowed in the main lot only.
Additional parking within walking distance of Midway Stadium also will be available beginning at 5:00 pm at Minnesota Wire and Cable, located immediately west of the stadium on Energy Park Drive for $20 cash per car and at Apria Healthcare at the northwest corner of Snelling Avenue and Energy Park Drive for $15 cash per car. The Minnesota Wire and Cable and Apria Healthcare lots are operated for the benefit of local charities. On street parking is available on Energy Park Drive at no charge, but fans are strongly advised to heed all marked parking restrictions.
There is a charter bus delivery zone in front of the stadium along Energy Park Drive.
"Kiss Me on the Bus" (Or Just Take It)
Why search for parking? You can take the bus to Midway Stadium instead. Two Metro Transit routes drop you off on Snelling Avenue, just east of the stadium.
Route 84 travels along Snelling Avenue, route 3B travels on Energy Park Drive, Snelling Avenue and Como Avenue. You can connect to these routes from all over the Twin Cities.
Plan your trip with Metro Transit by clicking here or by calling 612-373-3333 to talk to a transit information specialist.
---