Wilco and Kurt Vile
Sponsored by 89.3 The Current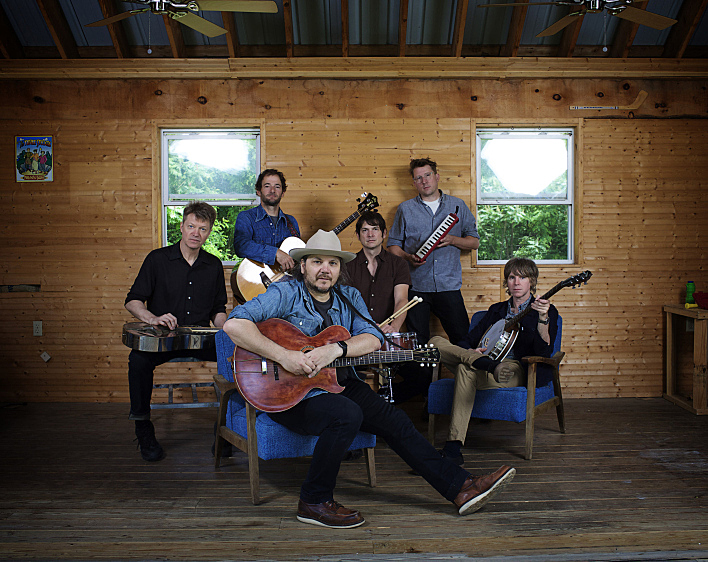 When
Gates, Music at 6:00 p.m.
Tickets
The Current's pre-sale on sale Thursday, March 3, 2016, 10:00 AM
public on sale Friday, March 4, 2016, 10:00 AM
$50.00
With a lineup as mighty as the Mississippi itself and the city skyline as a backdrop, First Avenue and JAM Productions present Wilco and Kurt Vile and the Violators at historic Hall's Island in Northeast Minneapolis on Saturday, Aug. 20, 2016. Get ready for an evening of incredible music, great food and craft beers – all key to making living through the Minneapolis winters seem worth it.
Gates open at 4:30 p.m. and the show starts at 6:00 p.m.
This tour will be in support of the release of the acclaimed Chicago sextet's Grammy-nominated, Star Wars (dBpm Records).
Star Wars is the band's ninth studio album and its first since 2011's The Whole Love. Initially made available with no advance notice as a free digital download on July 17, Star Wars has been hailed as the band's "most concise, catchy, naturally songful album in at least a decade," by Rolling Stone and has received many 2015 accolades including Magnet's Album of the Year.
The Current's Pre-sale
The Current's pre-sale runs Thursday, March 3 from 10 a.m. to 10 p.m. CT.
Password: starwars
Remaining tickets go on sale Friday, March 4 at 10 a.m.
Buy tickets online, in person at the Depot Tavern or Electric Fetus, or by phone 800-514-3849.
Wilco
Wilco is a Chicago sextet formed by singer-songwriter and guitarist Jeff Tweedy in the mid-1990s. The band's current lineup solidified in 2004 when guitarist Nels Cline and guitarist/keyboardist Patrick Sansone joined Tweedy, founding bassist John Stirratt, drummer Glenn Kotche and keyboardist Mikael Jorgensen. Wilco's brand of classic roots rock incorporates folk, pop and genre-spanning experimentalism.
The band's catalog includes 2002's Yankee Hotel Foxtrot (named one of the 500 greatest albums of all time by Rolling Stone), 2005's Grammy award-winning A Ghost is Born, the Grammy-nominated Wilco (The Album) and The Whole Love and more. NPR has called Wilco "the best rock band in America" and the band has been heralded by the Los Angeles Times as "an amazing machine whose six players seem more at one with their music than any rock group working today." The Wilco catalog includes Mermaid Avenue Volumes 1, 2 and 3, which, in collaboration with British folk singer Billy Bragg, sets original music to song lyrics by the iconic Woody Guthrie.
Wilco's most recent album, Star Wars, was released July 16, 2015.
Kurt Vile
Having been the subject and willing conspirator of many intentional lies planted in Sonic Youth bios over the years, I know first hand the way album lore can bend reality to its truth. After the infamous Byron Coley originated the SY "Trilogy" myth in the Murray Street bio, we had no choice but to fulfill those expectations with Sonic Nurse. "Why did you decide to make a trilogy?" was always the first question asked in interviews around that time.
But this is Kurt Vile's bio, and I wont do that to him. Anyway, Kurt does his own myth making; a boy/man with an old soul voice in the age of digital everything becoming something else, which is why this focused, brilliantly clear and seemingly candid record is a breath of fresh air. Recorded and mixed in a number of locations, including Los Angeles and Joshua Tree, b'lieve i'm goin down... is a handshake across the country, east to west coast, thru the dustbowl history ("valley of ashes") of woody honest strait forward talk guthrie, and a cali canyon dead still nite floating in a nearly waterless landscape. The record is all air, weightless, bodyless, but grounded in convincing authenticity, in the best version of singer songwriter upcycling. In Kurt's words, "I wanted to get back into the habit of writing a sad song on my couch, with nobody waiting on me. I really wanted it to sound like it's on my couch – not in a lo-fi way, just more unguarded and vulnerable." — Kim Gordon
Minneapolis' Historic Hall's Island
Hidden in plain sight, historic Hall's Island in Northeast Minneapolis was founded in 1902. The little island on the Mississippi River eventually became the site of a popular bathhouse and swimming beach, and later housed operations for Scherer Bros. Lumber Company. Now, thanks to the Minneapolis Parks Department's recent revitalization efforts, the area is a protected wildlife habitat and is in the process of becoming a great public park with a bright future ahead.
Transportation
We strongly encourage the use of public transportation, the use of bicycles and car sharing. Metro Transit has bus lines 11, 7 and 14 that pass very close to the concert site and also stop within a block of the Nicollet and Warehouse METRO stations. Nice Ride is providing a parking location for personally owned bicycles (map). In addition there are also numerous locations near Hall's Island to drop Nice Ride bicycles.
Permitted and Prohibited Items
Prohibited items that are discovered during inspections at venue entrances must either be returned to the owner's vehicle or will be discarded. The venue will not provide a storage area for these items.
Permitted Items
• Non-professional and disposable cameras
• Small backpacks, small purses and fanny packs
• Blankets
• One factory sealed water bottle 1 L/32 oz. or less in size and/or one empty reusable bottle following the same size requirements
Prohibited Items (including but not limited to)
• Lawn chairs
• Food and drink
• Balloons, flag poles, tables, any items to stake into the field
• Chains
• Coolers, glass bottles, cans, thermoses
• Large bags, backpacks, briefcases
• Pets (only service animals are permitted)
• Professional cameras, tripods, video cameras, recording devices
• Umbrellas
• Any item deemed by management to be dangerous or inappropriate
All ages
---