Yonder Mountain String Band performs live in studio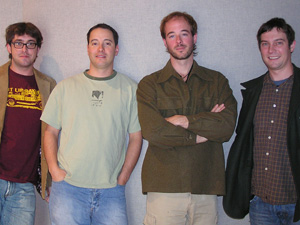 The Yonder Mountain String Band are a jam band, but one without the typical electric instruments. Yonder Mountain "noodles" with acoustic instruments, such as guitar, banjo, mandolin, fiddle, and bass.
While they've made their reputation on the jam-band circuit, their newest album includes collaborations with Tom Rothrock, James Blunt, Beck, and many other luminaries outside of the bluegrass world.
The stopped by the studio to talk with Steve Seel.
Songs performed: "Classic Situation," "Night Out," and "How 'Bout You?"
Guests
Yonder Mountain String Band
Resources
Related Stories