Nous Non Plus perform live in studio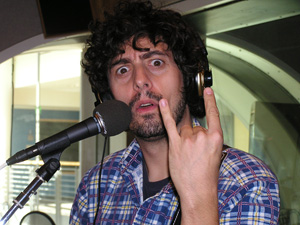 The band Nous Non Plus comes from New York, but you wouldn't know it once they step into their French alter-egos. Don't be too fooled though, there's one genuine Francophone in the bunch.
With names like Celine Dijon, Francois, and Cal d'Hommage, they take French pop influences and turn it into some fun and playful rock and roll.
On their first trip to the Twin Cities to play the 7th Street Entry, Nous Non Plus stopped by 89.3 The Current to talk with Brandt Williams.
On s'est bien amuse!
Songs performed: "Fille Atomique," "L'amant," and "Lawnmower Boy."
Guests
Resources
Related Stories