Citizen Cope performs in studio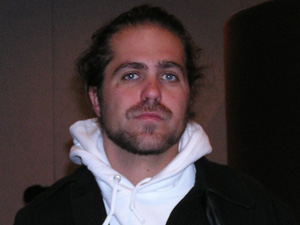 Greg Prato of Allmusic.com writes:
Citizen Cope is both a person (Clarence Greenwood) and a band. Born in Memphis, Greenwood is obviously the leader of the group, as he plays the keyboard, guitar, sings, and acts as a DJ, songwriter, and producer.
Greenwood first broke into the music biz by appearing on albums by Maryland rapper Basehead (1993's Not in Kansas Anymore and 1996's Faith) and issued the first Citizen Cope album around this time, titled Cope Citizen. Greenwood followed it by donating songs to several independently-issued compilations throughout the remainder of the decade (1997's Settling the DC Score, 1999's Anti-Rascist Action Benefit) as well as movie soundtracks (1999's Eat Me and Clubland).
He also appeared on Lazy K's 1997 album Life in One Day.
By 2000, Greenwood had inked a deal with the Dreamworks label, which issued his debut full-length, Citizen Cope, in 2002 (his actual first album, made with Capitol in 1997, was never released). Greenwood felt the label "mishandled" the record, however, and as their relationship wasn't improving, the singer looked to buy out his contract with the label and used his advance from his next home, Arista, to do it. But the problems didn't end there. Things didn't work out with Arista, either, and Greenwood moved on to RCA.
His first album for his new label, The Clarence Greenwood Recordings, hit the shelves in September of 2004, receiving enough attention that one of its songs, "Son's Gonna Rise," was used in a GM Pontiac commercial. Two years later, and still with RCA, Every Waking Moment came out.
Songs performed: "More Than It Seems," and "All Dressed Up."
Guests
Resources
Related Stories