Now It's Overhead performs in studio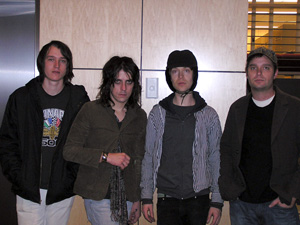 Heather Phares of Allmusic.com writes:
Now It's Overhead mixes moody pop influences such as the Cure and Depeche Mode and the layered textures of bands like Spiritualized and My Bloody Valentine into lovelorn indie rock.
Andy LeMaster, Orenda Fink, Maria Taylor, and drummer/vocalist Clay Leverett are also active in other Athens, Georgia bands and projects: LeMaster, along with former Sugar bassist David Barbe and the Glands' Andy Baker, owns and operates the Chase Park Transduction Recording Studio, where he has worked with Japancakes, Azure Ray, Bright Eyes (of whom LeMaster is also a touring member), and Seaworthy, among others; Fink and Taylor also perform with Azure Ray.
Now It's Overhead released their self-titled debut on Saddle Creek in mid-2001. Their sophomore album, Fall Back Open, which included guest spots by Bright Eyes' Conor Oberst and Michael Stipe, appeared in spring 2004. Two years later, after officially welcoming collaborator Brad Register (on guitar and keys) into the band, Now It's Overhead released Dark Light Daybreak, which showed a slightly more upbeat side to their usual brand of shoegaze-inspired rock.
Songs performed: "Fall Back Open," and "Dark Light Daybreak."
Guests
Resources
Related Stories
Maria Taylor - live in studio Maria Taylor can be heard as part of the duo Azure Ray, the band Now It's Overhead, or appearing on albums with Crooked Fingers, Bright Eyes, and Moby. She also finds time in her busy schedule for a solo career.