Bon Savants perform in studio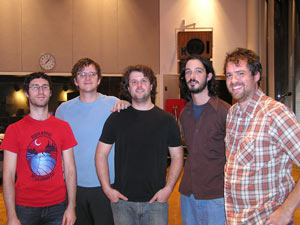 The Bon Savants' first album, "Post-Rock Defends the Nation," is a revelation. But for the Savants, who have long enjoyed a reputation as one of the smartest bands in Boston - frontman Thom Moran is a rocket scientist at MIT - an intelligent, cohesive album isn't enough. There is the small matter of actually selling "Post-Rock."
The guys stopped by The Current before their gig at The 7th Street Entry for a performance and chat with Steve Seel.
Songs performed: "Tip Of Our Tongues," "Between The Moon And The Ocean," and "Post Rock Defends The Nation."
Guests
Resources
Related Stories