Forward, Russia! plays a numbers game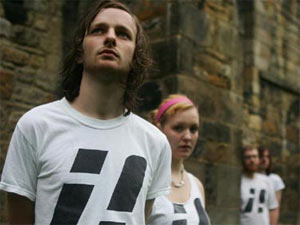 An English indie band from Leeds, formed in the Spring of 2004. The band was particularly well known for its decision to only name tracks with numbers, in the order that they were written.
However, the band has decided to stop this tradition, and did so after the release of Give Me A Wall, with the track "Don't be a Doctor". The band is also famous for its (see photo) logo, which is an increasingly popular T-shirt design.
They were in town to perform at The Triple Rock and stopped by The Current studios to perform a couple of songs and talk with Barb Abney.
Songs performed: "Eighteen," and "Nine."
Guests
Resources
Related Stories