Storyhill puts their history to work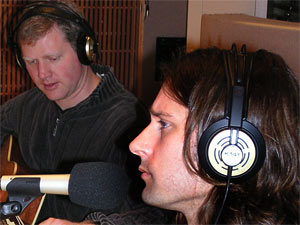 Grammy winner Dan Wilson and Red House Records knew it when they heard it: Storyhill is more than a couple of guys with guitars.
Chris Cunningham and Johnny Hermanson met in high school in Montana and continued singing through their college years at St. Olaf. They made a name for themselves on the road as Chris and Johnny, but after more than decade of writing and singing, they hung it up for bit.
They decided to put all of that history back together as the band Storyhill. They put out a new self-titled disc produced by Dan Wilson and got signed by Red House records. They were in the Twin Cities for a CD release and stopped in the Morning Show studio to talk with Dale and Jim Ed.
Songs performed: "Give up the Ghost," "Paradise Lost," and "The Ballad of Joe Snowboard."
Guests
Resources
Related Stories