Rickie Lee Jones performs in studio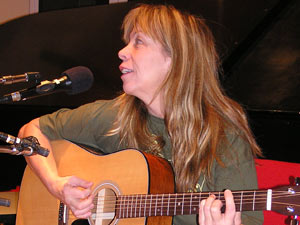 In 1979, a young Rickie Lee Jones got a big taste of success from her debut self-titled album and the hit song, "Chuck E's in Love." Today, she's back on the road touring in support of her new record, "Sermon on Exposition Boulevard" and she says it was the right thing to do at the right time.
Rickie Lee collaborated with writer and artist Lee Cantelon on the album which is based on Cantelon's idea to have a spoken word recording of people reading Christ's words in modern day context. But when Rickie Lee came into the studio and was inspired to sing her track, it turned into a full album.
Rickie Lee Jones and Lee Cantelon stopped in the Morning Show studios while in town for a concert at the Fitzgerald and spoke with Dale and Jim Ed.
Guests
Resources
Related Stories