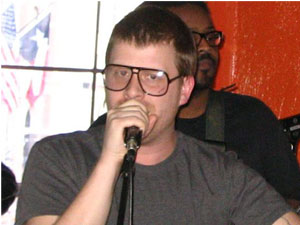 You have to be a rapper comfortable with yourself to have guests such as Trent Reznor and Cat Power on your CD. El-P aka El-Producto obviously doesn't feel he needs to prove his credibility.
In 2002, El-P released the critically-praised Fantastic Damage and spent four years on the follow up, I'll Sleep when Your Dead, that includes that collaboration with Chan Marshall, aka Cat Power.
Besides working on his own record, El-P spends a lot of time running Definitive Jux, the indie label that works with Hangar 18, Aesop Rock, and RJD2.
Songs performed: "The Overly Dramatic Truth," and "Poisonville Kids No Wins."
Guests
Resources
Related Stories
1 Photo
EL-P

(Photo courtesy Definitive Jux

)