Andrew Bird: Live from SXSW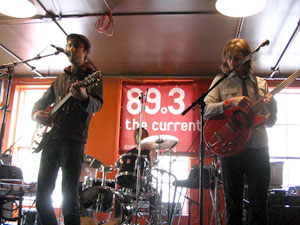 Whistle once on an album and you may be doomed to be tagged as a whistler forever. Luckily for Andrew Bird, famed in the indie rock world for his whistling, might be able to pass the torch to whistlers-du-jour Peter Bjorn and John.
And it would be a good thing for everyone because Bird has a lot to offer on his new album Armchair Apocrypha. The New Yorker called it "a vast, optimistic album about depressing things such as falling planes and empires." So let's let Bird leave the whistling label behind.
Songs performed: "Plasticities," "Imitosis," "Scythian Empires."
Guests
Resources
Related Stories
Andrew Bird performs in studio Having spent his early years in the Squirrel Nut Zippers and playing frontman as the Bowl of Fire, Bird is now on his own and quickly making a name for himself. He joined Mary Lucia in the Current studios to talk about those early years as well performs songs from his latest full length.
1 Photo
Andrew Birg

(Photo: Adam Berry

)