The Current live from Glueks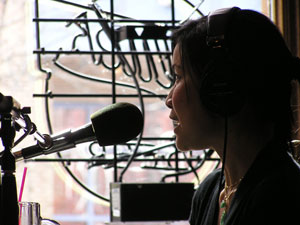 Reporter Lisa Ling travels the world reporting on a wide range of issue for the National Geographic and Oxygen cable channels. She and Mary Lucia discussed her latest work which includes a look at life in the cut-off world of North Koreans and girls who work as slaves in India.
Minneapolis writer Dennis Cass chatted with Mary about how our brains work, whose brain he'd like to live in for a day, and why George Clooney appears to be the most evolved human on the planet. Dennis is the author of Headcase: How I Almost Lost My Mind Trying to Understand My Brain.
Singer and songwriter Chris Koza is simply one of the most prolific and gifted people working in the Twin Cities music scene. He chatted about ghosts with Mary and played some tunes.
Songs performed: "Winning the Lottery," "Morning Moon," and "Adjust."
2 Photos
Minneapolis writer Dennis Cass chatted with Mary about how our brains work, whose brain he'd like to live in for a day, and why George Clooney appears to be the most evolved human on the planet. Dennis is the author of Headcase: How I Almost Lost My Mind Trying to Understand My Brain.

(MPR Photo/Stephanie Curtis

)

Singer and songwriter Chris Koza is simply one of the most prolific and gifted people working in the Twin Cities music scene. He chatted about ghosts with Mary and played some tunes.

(MPR Photo/Stephanie Curtis

)
View 1 more photos