Gang Font performs in studio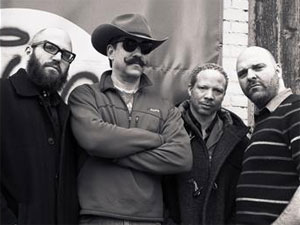 It's a band that rocks the proverbial boat with a punk-ish gait supplanted by youthful vigor. On this outing, bassist Greg Norton (Husker Du), keyboardist Craig Taborn, drummer Dave King (Bad Plus), and bassist/guitarist Eric Fratzke (Happy Apple) pursue unbalanced injections of prog-rock, topped-off with angst-ridden licks, pounding beats and more.
With numerous guitars-keys driven meltdowns; quirky melodies, minimalist themes, and jaunts into the freer state of affairs, the band's cross-appeal for jazz and rock aficionados is apparent.
Songs performed: "You Haven't Lived Until You Have Had To Have Read Beowulf," "Spencer's Background vs. Todd's Claim," and "Homage Claude Schnell"
Guests
Resources
Related Stories