The Little Ones perform in studio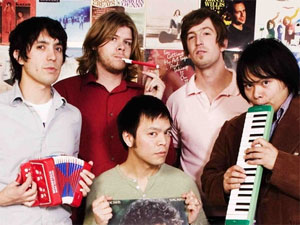 The Little Ones have a formula for their band. It's called Uncle Lee's Rule of Feet. If a song makes you move your feet (and maybe even dance), they're doing the right thing. The upbeat, catchy pop of The Little Ones traces them back to their roots of Southern California. Their Sing Sing EP oozes with sounds of summertime.
On April 21, 2007 they played at Trocadero's in Minneapolis with Kaiser Chiefs and The Walkmen.
Song performed: "Oh, MJ!", "Face the Facts" and "Lovers Who Uncover".
Guests
Resources
Related Stories
The Walkmen - in studio The Walkmen are five guys from New York, but you'd never guess it from their rich and rhythmic - almost mariachi-style - sound.