The Pines live in the Current studio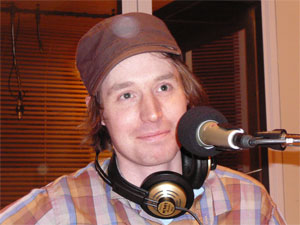 The Pines now call Minneapolis home, but both David Huckfeldt and Benson Ramsey hail from Iowa. The duo blend folk, blues and country. They share singing and songwriting duties on their Red House Records debut "Sparrow in the Bell."
The guys dropped by The Current studio with their band. Mary Lucia talked with them about growing up with a cool dad, the thrill of minor league baseball, and how they ended up joining forces in Tucson, Arizona rather than the Hawkeye State.
Songs performed: "Don't Let Me Go," "Without a Kiss," and "Throw Me in the River."
Guests
Resources
Related Stories
1 Photo
David Huckfelt of the Pines

(MPR Photo/Stephanie Curtis

)