The Pipettes perform in the Current studio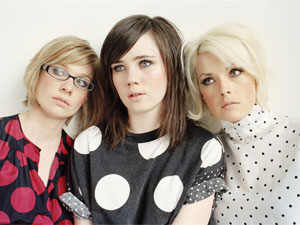 The group from England came together in 2004 and has been called the missing link between Phil Spector and modern day popular music.
By 2005, they had three limited-edition singles under their belts, which included the indie hits School Uniform, ABC, and Judy. In March 2006, The Pipettes had their first Top 40 hit with "Your Kisses are Wasted On Me."
Their debut album, We Are The Pipettes followed in July.
Songs performed: "I Love You," "Milk Man," and "Your Kisses are Wasted on Me."
Guests
Resources
Related Stories