St. Vincent performs in the Current studio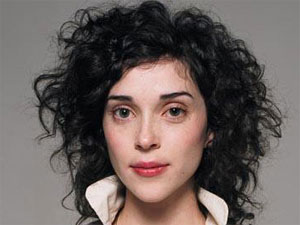 Singer/multi-instrumentalist Annie Clark said she came up with the name St. Vincent to put no limitations on what she could do. She said with a name like St. Vincent, the band could be "expandable and could include other people and really be a whole entity."
The 23-year old has played guitar for The Polyphonic Spree and Sufjan Stevens, and just released her debut solo album, Marry Me, on July 10, 2007.
Songs performed: "Human Racing," "Your Lips Are Red," and "Marry Me."
Guests
Resources
1 Photo
St. Vincent's floor-pedal set-up

(Minnesota Public Radio / Derrick Stevens

)