Dappled Cities perform in the Current studio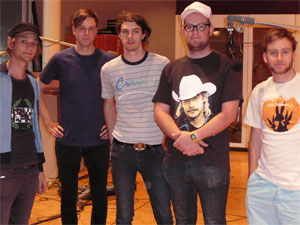 Their new album Granddance was released stateside less than two months ago, and it's garnering raves all through the indie media. The album was produced by Jim Fairchild and during their interview they talked about their friendship with him and how the title of their album is an homage to his former band, Grandaddy.
In fact, Dappled Cities will be joining Jim's new band, All Smiles, on the road in the very near future.
They dropped in the morning after their first date along with The Fratellis. While they were here they also discussed the first time they saw the Mississippi River, moving to the USA for six months, and life on the road.
Songs Performed:
"Beach Song", "Fire, Fire, Fire" and "Work It Out"
Guests
Resources