Augie March performs in the Current studio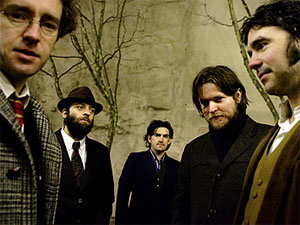 The group chose the name "Augie March" in reference to the book The Adventures of Augie March by Saul Bellow, attributing the choice to the way in which Bellow's descriptive and poetic language reflected singer/songwriter/guitarist Glenn Richards own song writing style.
They released their debut CD Sunset Studies in 2000 with their follow-up Strange Bird released in 2002. Their third CD entitled, Moo, You Bloody Choir was released this year and recorded in Melbourne, San Francisco and the band's own Second World studio in Nagambie, Victoria.
The project, produced by Australian studio legend Paul McKercher, Eric Drew Feldman and Augie March received six ARIA noms including Album Of The Year and Rock Album and this year's debut single "One Crowded Hour" shot to number one on the Hottest 100.
Songs performed: "Mother Greer," "One Crowded Hour," and "The Cold Acre"
Guests
Resources