The Hobo Nephews of Uncle Frank perform in the Current studios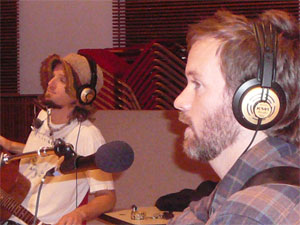 What's in a name? A little of this, a little of that, according to the Alexy brothers. They live near Duluth currently, but grew up in New Jersey and spent a lot of time hanging with their Uncle Frank. So much time, in fact, that they call themselves the Hobo Nephews of Uncle Frank. There really is an uncle with the name of Frank, but he's not really a hobo.
The band's second recording is titled "Sing," and to promote the release of the CD Teague and Ian Thomas Alexy stopped in the Morning Show studio to play a few songs, with the help of Ryan Young (Pert' Near Sandstone) on mandolin and fiddle and Paul Grill on drums and the infamous "stompbox."
Songs performed: "Uncle Frank's Basement," and "Love Hurts."
Guests
The Hobo Nephews of Uncle Frank
Resources