Stars perform in the Current studio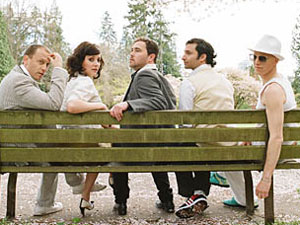 The band has been called soft revolutionaries and their music described as their rallying cry. Their debut CD, "Night Songs" was released in 2001, instantly rating highly on critics' top-ten lists across North America and was defined as a definitive pop classic. Their latest offering "In Our Bedroom after the War" was released in 2007 and the band continues to make beautiful and relevant music.
Songs performed: " Take Me to the Riot," "Personal,"
"My Favorite Book," and "Midnight Coward."
Guests
Resources
Related Stories
Stars perform in studio While their members can call Broken Social Scene, Feist and Metric labelmates as well as friends, Stars have a sound all their own. The group joined Mary Lucia in the Current studios to perform their lush orchestrated pop songs.