Georgie James performs in the Current studio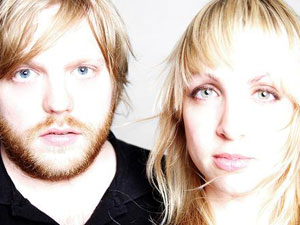 Georgie James is not a person. Georgie James is a band, based out of Washington, DC. The duo just signed with Saddle Creek Records (home to Bright Eyes, Maria Taylor and Two Gallants), who released their debut album "Places" in late September.
John Davis and Laura Burhenn have fairly different experiences in the music industry. John had spent nearly a decade making records and touring with his former band, Q and Not U. Laura had been releasing solo projects on her own label, Laboratory Records, and playing smaller venues on the east coast and in L.A.
When it comes to the the duo's music influences, they find they have a lot of common ground.
Songs performed: "Need Your Needs," "Long Week," and "Look Me Up."
Guests
Resources